Drainage from the ear -- medically known as otorrhea -- is usually caused by an infection. Take care to clear the drainage and clean the ear using the appropriate method, as improper cleaning can cause additional damage. Some of the causes of drainage are swimmer's ear, a middle ear infection, allergies, and head or ear trauma, reports MayoClinic.com. You may be able to clear some of the drainage by irrigating the ear canal.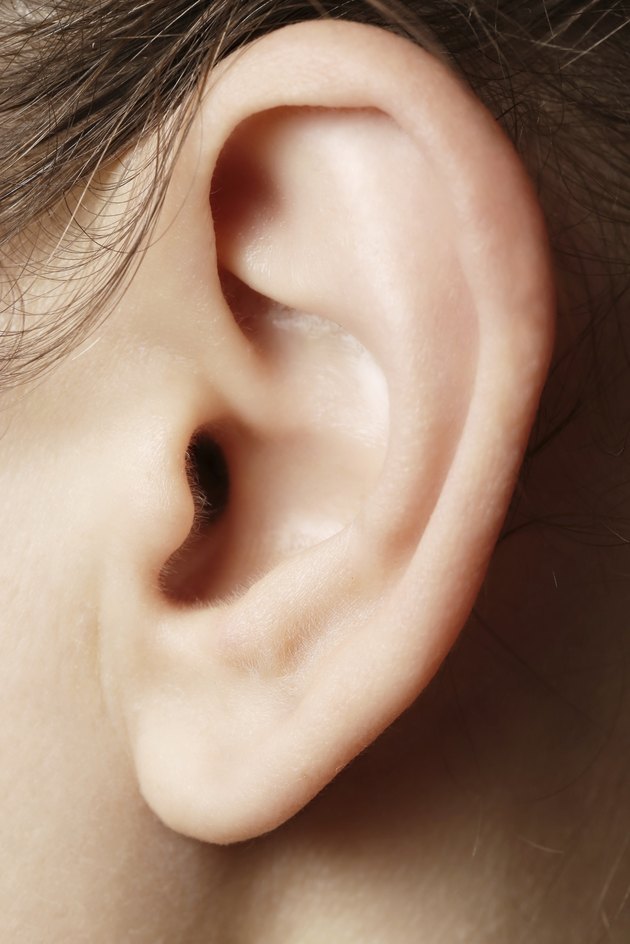 Step 1
Take note of the type of discharge you are having. If it is brown or yellow and smells foul, it is likely a bacterial infection that may need antibiotics to cure. Antibiotics may clear the discharge completely within a week, without any ear canal irrigation.
Step 2
Fill a bulb syringe with room-temperature water or saline solution. Use bottled water or a sterile saline solution, if possible, because it is more pure, but regular tap water works, too.
Step 3
Stand over the sink with the affected ear tilted away from the sink. Place the tip of the syringe 1/4 inch outside the ear canal and gently squeeze the bulb, injecting the water into the ear. Let the water sit for a few seconds and then turn your head over the sink. The water should drain out immediately, bringing with it any debris in the ear canal. Repeat several times until the drainage is all cleared.
Step 4
Gently dry the outer ear with a cotton swab, making sure to avoid the ear canal.
Step 5
Irrigating the ear canal after swimming if drainage from swimmer's ear recurs frequently. Mix equal parts of white vinegar and rubbing alcohol for this regular treatment.
Things You'll Need
Antihistamine

Ear syringe

Saline solution

White vinegar

Rubbing alcohol
Tip
Substitute hydrogen peroxide for the water or saline, as it may have the additional effect of cleaning stubborn wax from your ears.
It may be easier to have someone else inject the water into your ear.
Warning
Consult a health care provider to diagnose the cause of the drainage before attempting to clear it yourself.
Seek medical attention if you experience sudden ear pain while clearing the drainage, as this may be a sign of a burst ear drum.