Gulab jamun is a traditional Asian dessert that is most common in India, Nepal, Bangladesh, Pakistan and Sri Lanka. It's a dairy-based sweet that consists of soft, deep-fried balls of dough that are soaked in an aromatic sugar syrup. In the United States, you may find gulab jamun at Indian restaurants or grocery stores.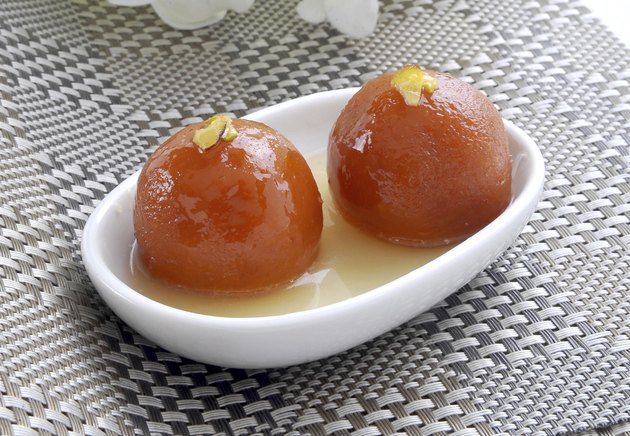 Nutrition Facts
A single gulab jamun ball is about the size of a ping-pong ball. Depending upon recipe variations, calories and nutrition facts may vary, but each ball generally has about 150 calories. In a version of gulab jamun published on AllRecipes.com, one ball has 142 calories, 8 g fat, 10 mg cholesterol, 40 mg sodium, 16.5 g carbohydrates, no fiber and 2 g protein. Since the balls are made using milk, they're also rich in calcium; a single dessert ball has close to 10 percent of the recommended daily value.
Ingredients
In the AllRecipes.com version of gulab jamun, the balls are made with clarified butter — also called ghee — as well as milk powder, flour, baking powder, milk, nuts and raisins, cardamom and oil. The sugar syrup is flavored with rosewater and cardamom. Another version, from Food.com, is more labor-intensive and calls for homemade ghee made with butter and a boiled-down paste of milk and flour. That recipe also adds saffron to the flavored sugar syrup. A few versions of gulab jamun are made with paneer instead of khoya. Paneer is made by curdling hot milk with lemon juice or another acidic liquid, whereas khoya is a boiled-down milk paste.
Alternatives
Making gulab jamun at home can involve a lot of work and time. A simpler albeit inauthentic version is to make the sugar syrup on its own and pour the syrup over plain cake doughnut holes, which are similar in appearance to gulab jamun balls. A single doughnut hole without sugar syrup has about 60 calories, 3.5 g fat, 8 g carbohydrates and 5.5 g sugar. If you do choose to make gulab jamun at home from a cookbook or alternate recipe, you can calculate its nutritional values by using an online calorie counter. Type in the total ingredient amounts that you use, add them up and divide by the number of servings in the recipe.
Considerations
Eating a single gulab jamun ball or even two or three won't cause major damage to a healthy diet plan if you do it only occasionally, but going overboard can make a difference. The calories in any dessert can add up quickly, so if you're watching your weight, stick to small servings and treat gulab jamun as a special, rare indulgence. MyPyramid.gov recommends forming the foundation of your diet with whole grains, vegetables, nonfat dairy, fruits and lean proteins for the most health benefits.