The organs work together to keep the body healthy. If one organ becomes dysfunctional, it can affect the others. Congestive heart failure can lead to elevated liver enzymes. However, liver enzymes can become elevated for other reasons independent of heart failure. These and other medical conditions should be diagnosed and treated with the consultation of a licensed health care professional.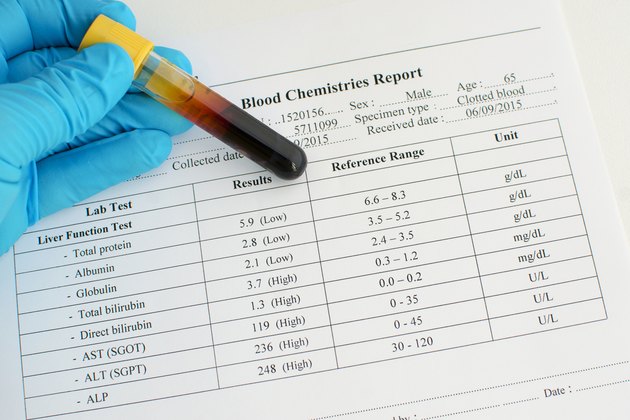 Congestive Heart Failure
In congestive heart failure, the heart has an impaired ability to deliver blood to the body. It has many potential causes, for example a heart attack can damage part of the muscular wall, or blood pressure or valve problems can damage the heart over time. As a result, the delivery of blood to the organs decreases, including to the liver and kidneys. The kidneys attempt to raise the blood pressure by conserving fluid and electrolytes. This puts more strain on the heart, worsening the condition. The fluid in the body builds up even more.
General Effects on Organs
Organs need a steady supply of blood in order to work properly. Blood delivers oxygen, the blood sugar glucose, hormones and other chemicals and nutrients needed by tissues. These chemicals provide energy to cells or tell them how to function. In congestive heart failure, the cells are deprived of energy, and the organs will not work optimally.
Liver Enzyme Release
In congestive heart failure, the liver can become dysfunctional, and liver enzymes can be released into the blood. Liver enzymes are special proteins found in liver cells. When the cells break open, they release their contents, including enzymes, into the blood. The concentration can be measured on a blood test.
In CHF, liver enzymes can be released for a number of reasons. First, the liver may not be receiving an adequate supply of blood, damaging the cells. Second, because the heart is ineffectively pumping blood, blood and fluids can back up into the liver, further damaging the cells.
Hepatic Disease
It is also possible for a separate process to release liver enzymes, such as gallstones lodging in the bile ducts, causing bile to back up into the liver, releasing liver enzymes. Alcoholism can lead to both liver damage with enzyme release and heart failure.