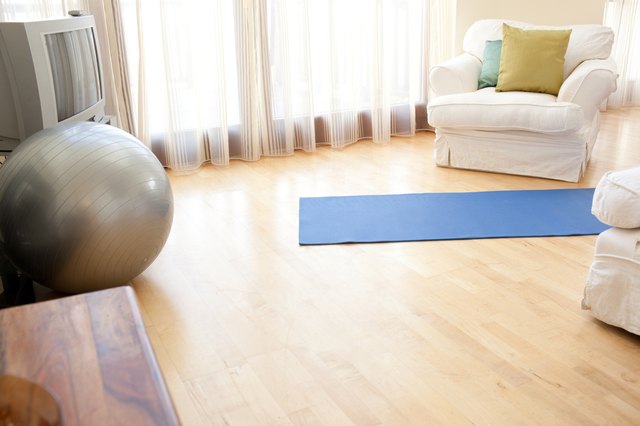 Exercise programs started the daily programming on most local television stations after the landmark "Jack LaLanne Show" debuted in 1951. Targeting the homemaker audience, shows hosted by Jack LaLanne, Debbie Drake and other exercise celebrities were a morning staple in homes across America. Since then, exercise shows have evolved and with the advent of cable television, the programming expanded to include yoga, dance, weightlifting and more vigorous aerobic exercises on specialized networks focused on health and fitness.
Discovery Fit & Health
Discovery Fit & Health debuted in January 2011. Discovery combined two of its properties -- Discovery Health and FitTV -- to make room for the Oprah Winfrey Network, according to "Channel Guide Magazine." Among the shows that the network airs are "Bollywood Dance Workout," turning Bollywood dance into a fitness regimen; "In Shape With Sharon Mann," hosted by the Canadian aerobics champion; "Shimmy" and "Dance & Be Fit," a pair of dance aerobics shows; and "Kundalini Yoga" and "Namaste Yoga," a pair of yoga demonstration shows. The network is distributed nationally on cable and satellite.
Exercise TV
Exercise TV distributes fitness and workout shows to cable subscribers with on-demand services. Managed by Comcast Corp. with investment from Time Warner Cable, Exercise TV programming focuses on the type of exercise. For instance, the "10 Minute Workouts" series features routines for people with limited time to devote to fitness. "Dance Fitness" and "Dance Yourself Thin" marries dancing and exercise together. The network's on-demand structure features specialized channels for abdominal and cardio workouts, Pilates, yoga and special activities for children. The network can be streamed online or, as of February 2011, found at Comcast, Time Warner, AT&T, Cox, Insight and Blue Ridge Communications cable systems, as well as DIRECTV.
Fitness TV
British production company TV Worx Limited unveiled Fitness TV in August 2010 on satellite systems in the United Kingdom. The network's website hosts full-length episodes of its shows, including "Body Strength Express," which promises to "strengthen and lengthen all the muscles groups;" "KettleWorx," which incorporates the kettleball into exercise routines; and "Step It Up With Ladan," a 30-minute step aerobic class.
Christian Fitness
According to the show's hosts and producers, "Christian Fitness" came from the belief that an idle body and unhealthy lifestyle does not make the best use of the body God gave you. The 30-minute show is streamed online and, as of February 2011, aired on the Christian Television Network.