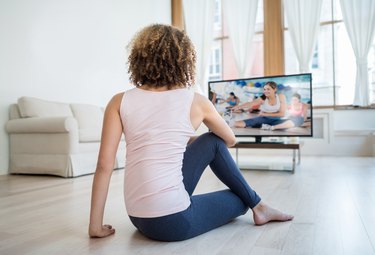 Being able to exercise on your own time and in your own space is becoming a popular option for people who need convenience and cost-effective strategies for staying fit. One way to get your sweat on in your living room is to queue up a few exercise programs on TV.
While the days of early morning public television workouts are gone, you now can choose from thousands of free and paid fitness videos online and on various subscription services such as Amazon Prime, Xfinity and other fitness-related websites.
Using Exercise Programs on TV
Subscription TV services are full of workout videos appropriate for all fitness levels and interests, which is one of the reasons working out at home is becoming such a popular option for people looking to include fitness into an already busy day.
Plus, the Centers for Disease Control and Prevention says that breaking down the barriers of fitness such as time, money, and access to a gym, can help people stick to an exercise program. And exercising in your living room with a DVD, app or online workout program can help create a health club feel without high gym costs.
The Benefits of Working Out at Home
As mentioned above, saving money is the great thing about at-home training, But another benefit of exercise videos? You can do them right in the comfort of your own home with little to no equipment — all you need is a few feet of space.
These days, you can stream most exercise shows on just about any device, including your TV, laptop, tablet or cell phone. That gives you a little more versatility with your workout location. Choose a space that has few distractions. If you share a living room with others, consider training in the garage or backyard.
When it comes to equipment, most videos have bodyweight modifications but you may want to keep a few resistance bands and light dumbbells handy. These give you the option to progress your workout as you improve and grow stronger.
Finding an Exercise Video
To find the best exercise video or program for you, a little research is necessary. The biggest factor in finding a good exercise video? Your favorite activities. This may seem self-explanatory but if you don't enjoy boxing, steer clear of boxing-based exercise programs. Or, if Pilates isn't your thing, consider an interval-focused video.
Also look for a video that's appropriate for your age and fitness level. Most programs include a pretty detailed description of what to expect, including the ideal age range, workout length and intensity level.
For those exercising with kids in the house, there are plenty of age-friendly videos you can try. Beachbody offers an entire selection of
If you're in search of a convenient way to get in your exercise for the week, you can start by searching your TV provider. Companies like Xfinity offer exercise programs on TV via subscription on-demand packages. A few include Gaiam TV Fit and Yoga, Grokker Yoga Fitness and FitFusion by Jillian Michaels. In addition to your Xfinity fee, these on-demand packages start at $6.99 per month.
Amazon Prime video offers a variety of programs, including Zumba, HIIT, Pilates, yoga, total body workouts and dance. Some of these workouts are included in your monthly Amazon Prime fee, but others are considered an add-on, so you will need to pay extra to access the videos.
Wondering where you can find endless free workout videos? Youtube is an excellent place to start. From individual exercise demonstrations to full-out, heart-pumping, sweat producing workouts, searching for free workouts on YouTube is another simple and very cost-effective way to fit fitness in at home.
There's no shortage of workout apps, either. You can find an app for just about any workout style or fitness level. And many of them, like the Nike Training Club, are totally free of charge.