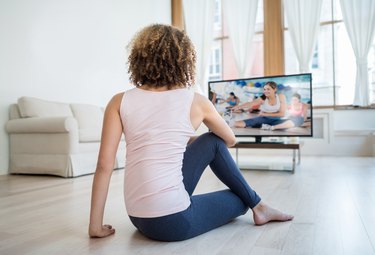 Being able to exercise on your own time and in your own space is becoming a popular option for people who need convenience and cost-effective strategies for staying fit. One way to get your sweat on in your living room is to queue up a few exercise programs on TV.
While the days of early morning public television workouts are gone, you now can choose from thousands of free and paid fitness videos online and on various subscription services such as Amazon Prime, Xfinity and other fitness-related websites.
Using Exercise Programs on TV
Subscription TV services are full of workout videos appropriate for all fitness levels and interests, which is one of the reasons working out at home is becoming such a popular option for people looking to include fitness into an already busy day. But it's not just convenience that is motivating people to get moving at home; it's also the money they can save by utilizing existing services and conserving cash on pricey gym fees.
While some cable and subscription services require an extra fee in addition to your monthly plan, many are already included. Which is great news for anyone looking to trim the fat on their body and their monthly budget. Plus, the Center for Disease Control and Prevention says that breaking down the barriers of fitness such as time, money, and access to a gym, can help people stick to an exercise program.
The Cleveland Clinic suggests using exercise shows on TV, DVDs and online videos for fitness routines such as Pilates, yoga, kickboxing and dance as an inexpensive way to stay in shape. While the Mayo Clinic suggests exercising in your living room with a DVD, app or online workout program as a way to create a health club feel without the added cost of a membership.
Favorite Exercise Shows on TV
If you're in search of a convenient way to meet the exercise guidelines set by the U.S. Department of Health and Human Services which recommend that adults get a minimum of 150-minutes of moderate-intensity aerobic exercise each week and two days of resistance training using all of the major muscles, you might want to consider trying a few of these workouts from Xfinity and Amazon Prime.
Companies like Xfinity offer exercise programs on TV via subscription on-demand packages. Customers can choose from channels that offer yoga, high-intensity interval training, resistance training and stretching. Three of their fan favorites include Gaiam TV Fit and Yoga, Grokker Yoga Fitness and FitFusion by Jillian Michaels. In addition to your Xfinity fee, these on-demand packages start at $6.99 per month.
While Amazon Prime offers a variety of programs such as Zumba, HIIT, Pilates, yoga, total body workouts and dance. Some of their top-performing workouts include 8-Minute Abs Workout, Zumba Fitness-Concert Live, Power Yoga Weight Loss with Erica Vetra, High Energy Full-Body Cardio Pilates Fitness Fusion Workout, Jillian Michaels and 15-Minute HIIT 1.0 With Maggie Brinkley. Some of these workouts are included in your monthly Amazon Prime fee, but others are considered an add-on, so you will need to pay extra to access the videos.
You name it. YouTube probably has it. From individual exercise demonstrations to full-out, heart-pumping, sweat producing workouts, searching for free workouts on YouTube is another simple and very cost-effective way to fit fitness in at home. There are tons of lists online you can search to find the best fitness channels on YouTube, but some of the most viewed programs include Blogilates, FitnessBlender, Leslie Sansone's Walk at Home Channel and Nate Bower Fitness.
In addition to YouTube, you can also subscribe to online streaming services that offer thousands of fitness classes. Some of the more popular online workout programs include Tone It Up, Body By Simone TV, YogaWorks Online Yoga Class, Kayla Itsines and the Tracy Anderson Method Streaming Subscription. The prices for these programs range from as low as $14.99 per month all the way up to $199 per month.
And if you still have a DVD player laying around, dust it off, and check out some of the top-rated workouts according to Amazon including Zumba, Beachbody, PiYo and Body Groove Dance. Before you get too excited about this form or viewing, it's important to note that as online streaming and subscription services gain popularity, purchasing DVDs is getting increasingly more difficult.