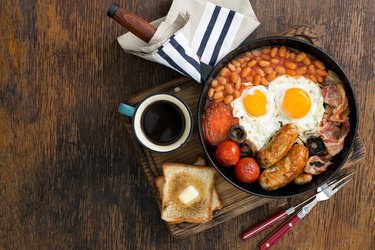 Breakfast sausages can be made from any type of protein. However, sausages are most commonly made from red meats, which are often rich in saturated fat. The most heart-healthy sausages are made from plant-based proteins or lean meats like poultry and pork loin.
Buying Healthy Breakfast Sausages
Breakfast sausages can be made from any meat or meat product, which means they may contain a mixture of meat and offal (organ meat). According to USDA FSIS standards, breakfast sausages can also contain as much as 50 percent fat.
Healthy breakfast sausages can be made from many different types of proteins, as long as they are low in fat. Low-fat poultry products, like chicken or turkey, are the ingredients in some of the most heart-healthy sausage products.
However, other types of meat can also be low in fat. The American Heart Association says that cuts of meat labeled as "sirloin", "loin" and "round" are also typically low in saturated fat. For example, lean pork breakfast sausage that's primarily made from pork loin is likely to have less saturated fat than other sausages.
If you're buying regular sausages and eating them for breakfast, keep in mind that other types of fresh sausages are made to the same standards as the USDA FSIS standards for breakfast sausages. Most fresh sausages are allowed up to 50 percent fat content. However, beef sausages and Italian sausage products are only allowed a total fat content of 30 to 35 percent.
If you're making precooked sausages, make sure you're cooking them to the right temperature. The USDA FSIS recommends cooking ground red meats to an internal temperature of 160 degrees Fahrenheit (71 degrees Celsius), while ground poultry should be cooked to 165 F (74 C).
Making Lean Pork Breakfast Sausage
Breakfast sausage patties are easier to make than breakfast sausages. This is because patties don't require casings like whole sausages. Breakfast sausage patties require four main types of ingredients: ground meat, spices, vegetables and egg. To make nutritious lean pork breakfast sausage patties, assemble your ingredients:
9 ounces of ground lean pork loin

3 ounces of ground pork liver

1 large egg

1/2 of a red onion, finely chopped

3 cloves of garlic, finely chopped

1 tablespoon of fresh parsley, finely chopped

1 teaspoon of fresh sage, finely chopped

1/2 teaspoon of dried oregano

1/2

teaspoon of black pepper

1/2

teaspoon of salt
Although you might not like the thought of eating pork liver, incorporating a small amount of this organ can increase the nutritional value of your breakfast patties substantially.
Here's what you need to do:
Heat your oven: Preheat your oven to 400 F (204 C).

Stir it up: Mix all the ingredients together. Spoon out about 2 tablespoons to make each patty. Each patty should be about two and a half inches in diameter.
Cover with foil: Cover your patties with aluminum foil so that they don't burn. These lean pork breakfast sausage patties are low in fat, so it's very important not to overcook them. Lean pork can dry out very quickly.
Bake until browned: Bake the patties for about 12 to 15 minutes. At this point, they should have browned on both sides. If you have a thermometer, the Food and Drug Administration says that ground pork should reach an internal cooking temperature of 160 F (71 C).
Serve and savor: Serve your heart-healthy breakfast sausages with an egg and whole-grain toast or our open-faced Black Bean Melt With Slaw or Caprese Breakfast.