Probiotics and yogurt independently offer more health benefits than any potential side effects, so you can expect good things when the two are combined. Yogurt delivers nutritional value in the form of protein and calcium. Probiotics help keep your digestive tract healthy and support your immune system. Probiotic yogurt may cause minor side effects, such as gas or an upset stomach. In very rare cases, probiotics may lead to a serious infection.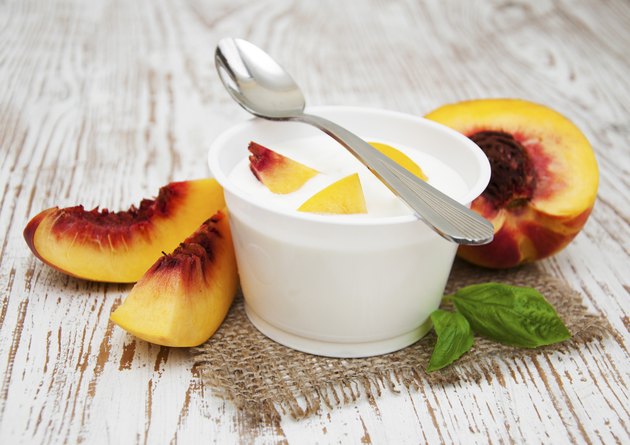 Probiotic Description
Bacteria must meet a few requirements to be considered probiotics. For starters, they must not be harmful bacteria. Probiotics must also be live microbial organisms that can survive digestion, remain alive in your gut and then exert a beneficial effect in your large intestine, reports the University of Michigan Health System. Probiotics help boost your immune system, prevent harmful bacteria from growing and inhibit toxins from bad bacteria. They also ferment some types of fiber, which produces energy and contributes to intestinal health, according to a review in the "Journal of Clinical Gastroenterology" in March 2006.
Gastrointestinal Issues
Probiotics in yogurt may help relieve symptoms from gastrointestinal disorders, such as irritable bowel syndrome and inflammatory bowel disease. Yogurt with active live cultures can also help treat diarrhea, reports the National Digestive Diseases Information Clearinghouse. In spite of these benefits, the only side effects associated with probiotic yogurt are also gastrointestinal. The most common problems from probiotics are gas and bloating, according to the American Gastroenterological Association. If you consume large amounts of probiotics, you may experience an upset stomach or develop diarrhea, but these symptoms are usually mild and temporary.
Rare Side Effects
Probiotics may cause infections in people who are critically ill or have weakened immune systems. A condition called short bowel syndrome, which is when some of the small intestine is missing or has been surgically removed, may also increase the risk for developing an infection from probiotics. Lactobacillus acidophilus may cause an infection in people who have an artificial heart valve, reports the University of Maryland Medical Center. If you take medications for ulcerative colitis, especially one called sulfasalazine, probiotics may interfere with the drug's metabolism.
Watch Sugar, Calories and Expiration
Two potential concerns related to yogurt come from added sugar and calories. Depending on the brand, sugar may range from 9 grams to 40 grams per 8-ounce serving, while calories vary from about 120 to 280. It's important to eat your yogurt before the expiration date to be sure the cultures are still living, notes the American Gastroenterological Association. Probiotic yogurt should always have the "live and active cultures" seal, and the label may also list the name of the probiotic species. The most common bacteria used are Lactobacillus and Bifidobacterium.