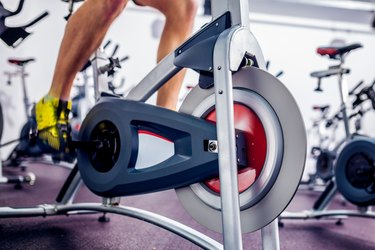 If you're looking for a gym with an electricity-producing machine, you might have to broaden your search area. While the trend to shrink our carbon footprint is definitely alive and well, finding facilities with exercise machines that generate electricity is not as easy as you might think.
Electricity-Producing Machine
Retrofitting cardio machines with energy-producing generators such as a treadmill generator is something a few commercial gyms and people with home exercise equipment are experimenting with to try to offset their electricity bill.
One company, in particular, is trying to make exercise machines that generate electricity the norm for every gym, hotel and home. The SportsArc Eco-Powr line includes a treadmill, 3-in-1 cross trainer, elliptical, upright cycle, recumbent bike and indoor cycle.
According to their website, the watts generated through exercise are converted to AC power and sent back through a facility's or home's power grid to offset energy consumption. According to the American Council on Exercise (ACE), watts measure the rate of energy conversion, defined as one joule per second. The harder you work, the more watts you generate, which is great news for cardio equipment that is more like an electricity-producing machine.
Another example of a company featuring exercise machines that generate electricity is Eco Gym. Located in several states, the Eco Gym website says they are the first and only 24-hour health club powered by human kinetic and solar energy has indoor cycling equipment that gets the energy from your workout and uses it to power the building.
Using Exercise Machines
Whether you use exercise machines that generate electricity or traditional equipment that just gives you a workout, fitting in fitness is what really matters. If you have access to a gym or fitness facility, then using exercise equipment like cardio and resistance machines shouldn't be a problem.
To maximize results, use a variety of machines and workouts that target your entire body, and don't be afraid to try new types of equipment. There are several exercise machines that are forgotten or overlooked because people don't know how to use them. Cardio equipment like the upper-body ergometer, rowing machine and stepmill can still offer as great of a workout if not better than the treadmill or elliptical.
And when it comes to the two most popular pieces of cardio equipment, the treadmill and elliptical, the Mayo Clinic says you can get an effective workout on both pieces of equipment. However, they do point out that an elliptical may be less stressful on your knees, hips and back than a treadmill, which is something to consider if you have any injuries or chronic pain.
Finally, if you're trying to choose a cardio machine for your home, Harvard Health Publishing offers a few tips to help you make the best decision. Before you head home with an elliptical machine, look for comfortable handlebars and nonslip pedals with curved ridges.
For a realistic rowing experience seek out rowing machines that have a pulley model instead of piston models. When it comes to stationary bikes, make sure the seat is comfortable. And if you're making the big purchase of a treadmill, look for a model with a strong motor and a belt that is wide enough for your stride.