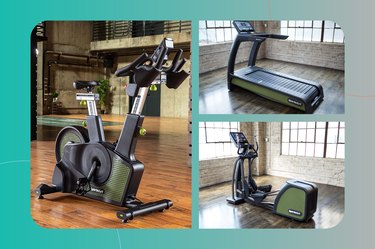 As you work to overhaul your home and make it more environmentally friendly, you might be looking at how much electricity your exercise machine eats up. Treadmills, indoor bikes, ellipticals — they all suck electricity every time you plug them in (and you are unplugging them after you hop off, right?).
But what if you could use an exercise machine that generates electricity? There aren't many on the market — in fact, only one company manufactures them — but if you're looking to live a more sustainable lifestyle, they might be worth considering for your home gym.
How Power-Generating Exercise Equipment Works
You won't notice any differences between an exercise bike that generates electricity and a regular indoor bike. Not only do they look the same, but they also feel the same when you're working out on them.
"These machines work exactly like all of the other cardiovascular equipment," says Kurt Broadhag, CSCS, president of K. Allan Consulting in Los Angeles, a design firm focused on creating fitness facilities with green operations. "They feel exactly the same as the others, which means you'll get an identical workout."
SportsArt creates exercise equipment with a generator that captures your movement. The watts you've generated during your workout are converted into power that's sent back to your home's power grid. So the harder you sweat (and the more workouts you do), the more electricity you'll generate.
According to SportsArt, exercisers generated an average of 160 watts per hour during their workouts on their machines. That means a 30-minute workout could power a new Apple Macbook Pro for over 2.5 hours, says Ruben M. Mejia, executive vice president of SportsArt Americas.
That said, exactly how much electricity you generate while working out isn't clear, so the pay-offs may not be that much for somebody who wants to buy one for their home gym.
"In terms of dollars and cents, a home gym user probably can't make enough electricity to offset the expense of the machines (the amount of electricity you use to run it)," says Adam Boesel, founder of The Green Microgym.
However, there may be other benefits that extend beyond any potential cost savings. "It's more about a lifestyle choice," Boesel says, comparing it to recycling. "Is recycling really the answer? That's a dilemma, but if it makes you feel better to recycle, then you do it."
3 Electricity-Generating Exercise Machines to Buy
As part of SportArt's ECO-Power line, this non-motorized treadmill ranges in speed from 2 to 15 miles per hour (mph) and features a 21- by 58-inch surface for walking, running and even sled pushing. It comes with a USB port so you can charge your device and can convert up to 200 watts of energy per hour, which is about what the average home refrigerator uses.
If you've got knee or back issues, using an elliptical is often a good option. With this eco-friendly elliptical, you can adjust the stride from 17 to 29 inches and opt for resistance levels that run from one to 40. It also comes with a three-speed fan to help keep you cool during your workout and has cushioned pedals for a smooth, comfortable ride.
You don't need a fancy gym to get a great cycling workout. This exercise bike that generates electricity makes a smart addition to your home gym.
It has an electronic resistance lever with an emergency stop and a six-colored LED light console to show your workout intensity.
How to Shop for Power-Generating Exercise Machines
Fortunately, SportsArt has a variety of eco-friendly exercise machines to choose from, including a treadmill, cross trainer, elliptical, recumbent bike and a stationary bike that generate electricity.
Which you choose should come down to personal preference. Ultimately, it should be the fitness equipment you'll enjoy using the most, increasing the likelihood that you'll use it frequently and for many years to come.
Here are a few factors to consider before adding to your virtual cart.
Consider whether you enjoy exercising indoors. If you enjoy outdoor workouts and live in an area where you can get outside most of the year, which is arguably the most sustainable way to exercise, buying a piece of at-home cardio equipment may not make much sense.
However, if outdoor exercise isn't your thing or you can only head outdoors for a small part of the year, make sure you purchase a machine you'll enjoy using. If you hate cycling, for instance, buying a stationary bike that generates electricity won't help you exercise more.
SportsArt doesn't directly offer financing plans, but it does have several partners it works with for financing. If you can't afford the cost, check with local gyms to see if they carry the equipment so you can log a more sustainable workout there.
And while you're thinking about how to make your home gym more eco-friendly, you also want to consider how the exercise equipment you're purchasing was made. Check the manufacturer's website to see if they're making sustainability a part of their focus, including in designing, packaging and/or shipping the equipment.
"You have to take into account things like what the manufacturer is doing for the environment and how sustainable the materials are that they're using," Broadhag says.
For instance, are they, at a base level, working to recycle? Are they using materials in the design of the equipment that are more eco-friendly? And have they changed anything about how they're packaging or shipping the equipment to have less of an effect on the earth?
As with any piece of cardio equipment, check the dimensions of the machine to make sure it can fit into whatever area you've designated in your home.
Think about your workout space and choose an area that's appealing to you, so you feel motivated to use the machine. For example, rooms with windows are good options versus dark basements you hardly ever use.
Otherwise, a piece of exercise equipment, whether it generates electricity or not, won't do anybody — or the planet — any good if it sits around unused.
More Great Gear for Home Gyms