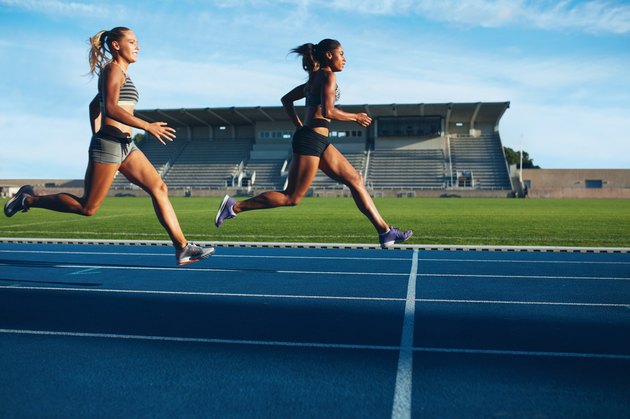 Going for a run remains a popular form of exercise. Running improves your aerobic endurance, but you might wonder how to do cardio without losing muscle. While running may cause weight loss, it can also cause weight gain. Learning how to properly structure your running routine will help you reach your health goals.
Understand Anabolic Processes
Your body strives for a balance between muscle building and muscle breakdown every day. If you want to keep or increase your muscle mass, it's important to stay ahead on your muscle protein count. Physical activity and diet are equally important for muscle growth. The key is to avoid overtraining and maintain a well-balanced diet.
The Physical Activity Guidelines for Americans recommends doing at least 150 minutes of moderate exercise or 75 minutes of intense exercise each week. You can do this with 150 minutes of light jogging throughout the week. If you run, you'll need to exercise for only 50 minutes.
The guidelines also suggest having a diet rich in healthy carbohydrates, proteins and fats. Be sure to eat plenty of vegetables and fruits so you get all the nutrients you need for muscle building. If you're doing a lot of running, consider taking a leucine supplement to make sure you get appropriate doses of amino acids. These nutrients play a critical role in the anabolic processes needed to build muscle tissue.
Increase Muscle Mass by Running
Some people think that cardio burns muscle, but it can also build mass. Keeping the intensity high is the critical variable. Sprinting, for example, will typically increase your muscle mass. A 2014 article in Applied Physiology showed this effect in younger women.
Participants did sprint interval training three times a week for six weeks. This protocol caused a 1.3 percent increase in lean body mass. It also caused an 8 percent decrease in body fat. So, intense running can decrease your body fat and increase your muscle mass.
Treadmills offer an excellent way to do a sprint workout and reap these benefits. Start with a 10-minute jog at 5 miles per hour. Then, do a 30-second sprint at 7.5 miles per hour. Return to the jog for 90 seconds. Repeat this cycle as often as you can, and try to do more cycles each week. Completing this routine for 30 minutes three times a week will yield the best results.
Running in Space
More evidence about the anabolic power of running comes from studies on muscle-wasting. Extended bed rest causes your muscles to break down. For example, a 2018 report in the journal Diabetes showed that healthy adults lost more than 3 pounds of muscle mass in a single week of bed rest.
A similar problem happens during space travel. The lack of impact loading in space causes muscle loss in astronauts. These changes occur even when the astronauts do conventional forms of exercise. However, running on a space treadmill can attenuate these losses.
Improve Your Health by Running
Running can positively affect your health in other ways as well. In a 2015 review published in Sports Medicine, researchers noted that running enhances aerobic capacity, increases muscle mass, promotes good cholesterol and decreases body fat in people with a sedentary lifestyle. These results typically follow a dose-response curve, with more running leading to greater benefits.
Road racing offers an easy way to improve your health. In an article listing unique races to run, the author describes a bucket list of road races around the country. The social and fun side of these events will help you overcome the barriers to exercise that make so many Americans inactive.
Protect Yourself While Running
Running can also damage your cartilage. This soft tissue doesn't have blood vessels or nerves, making it impossible to repair. A few minutes of running causes a 9 percent deformation in your cartilage, so you might want to keep your runs short to avoid long-term damage. Making this change will decrease your risk of developing arthritis.
Water treadmills let you enjoy the benefits of running without these risks. A 2017 paper in Gait and Posture describes the effects of water depth during treadmill running. Having the water above the waist decreased the impact without altering the physiological challenges of running.