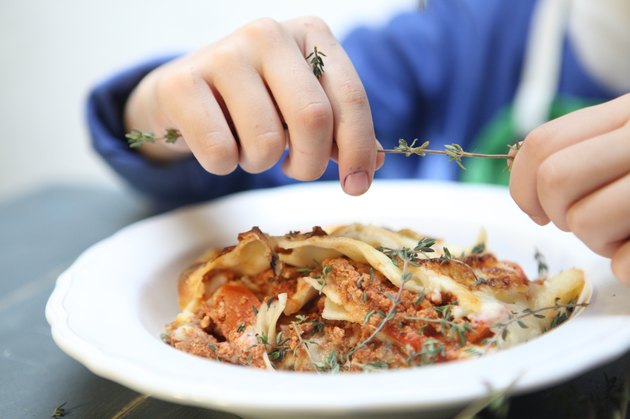 While hitting the gym and getting proper rest are essential components of bodybuilding success, nutrition also plays an important role. Choosing healthy foods can accelerate your progress, whether you are in a mass-gaining phase or pre-competition dieting phase. Lasagna has some nutritional benefits for bodybuilding, but may not be appropriate if you are dieting. Note that different recipes have different nutritional profiles, so check nutrition facts when available.
Calorie Content
When you are gaining muscle for bodybuilding, high-calorie foods are ideal. Lasagna is good for muscle-gain phases in bodybuilding because it combines a number of different ingredients -- beef, pasta, ricotta cheese and tomatoes -- that weightlifting website Muscle & Strength considers to be among the best bodybuilding foods. The large number of ingredients makes lasagna high in calories, as a 1-cup serving provides 260 calories. By comparison, 1cup of skim milk provides just 80 calories.
Protein Content
Lasagna is high in protein, which is the nutrient your body uses to build muscle. Each cup of lasagna offers 16 g of protein, which is twice that of a cup of skim milk. If you are dieting for a bodybuilding competition, you may wish to choose higher-protein, lower-calorie foods, such as chicken breast. Research published in a 2009 issue of "Nutrition, Metabolism and Cardiovascular Diseases" indicates that reduced-calorie, high-protein diets can promote more fat loss than diets lower in protein.
Carbohydrate Content
Carbohydrates are important for bodybuilding because they provide energy for workouts, aid in recovery and are protein-sparing, which means that consuming carbohydrates allows your body to use protein for muscle-building, rather than energy. Lasagna is rich in carbohydrates, with 26 g per cup. Lasagna provides 5 g of fiber per cup. Fiber is important because it helps reduce cholesterol levels.
Fat Content
Although many diets avoid fat, consuming fat can be beneficial for bodybuilders, as it is high in calories and can help you achieve the caloric surplus muscle gain requires. A 1-cup serving of lasagna offers 10 g of fat, with 5 g of saturated fat. If you are dieting for competition, you may wish to find a food with less fat, as the fat in lasagna provides 90 out of the 260 total calories in the dish.