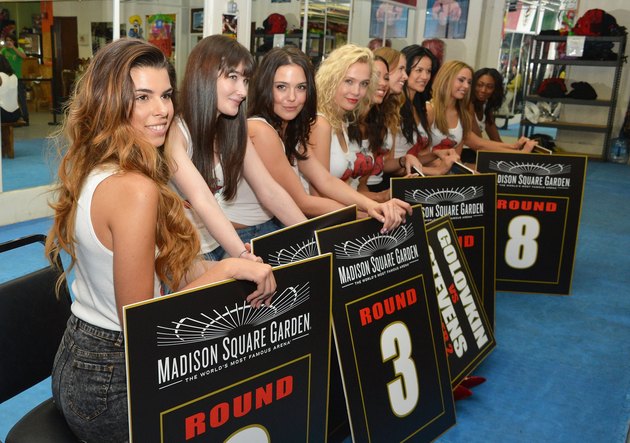 If you've ever watched a professional fight, you've probably noticed a scantily-clad model or two walking around the ring or cage between rounds. You've also likely noticed the delighted hoots and hollers of those in attendance. These models are known as ring girls. They may not be absolutely necessary, but they have been a part of the glitz and glamour of fight promotion since the 1960s.
Ring Girl Duties
When it comes right down to it, the responsibilities of the ring girl aren't vast or complicated. Usually, the attractive model holds a large placard indicating the next round. Often, the ring girl walks around the ring or cage with the sign, then blows a kiss to the camera and takes her seat to watch the fight with the rest of the crowd.
History in Boxing
Ring girls first rose to prominence after a 1965 edition of "Ring Magazine" ran a photo of a Las Vegas model holding a sign at a boxing match. The scantily-clad women were meant to draw viewers in and create more of a Vegas-like spectacle out of the combat on display. Eventually, most fight promotions adopted the practice of including ring girls in their events.
Modern Mixed Martial Arts
Other sports have cheerleaders, but ring card girls remain unique to combat sports. Although boxing started the trend, modern mixed martial arts promotions such as the Ultimate Fighting Championship have followed suit. Outfits may change depending on the venue, sponsors and the occasion, but the ring girl duties are the same from ring to cage.
The Court of Public Opinion
Ring girls aren't welcomed by all. Malissa Smith, an author who covers women's boxing, called the practice "blatant sexual exploitation" in a 2012 article in the "Troy (New York) Record." On the other hand, Lisa Elovich, a boxing promoter, holds the opposite view. In the same interview, she passed rings girls off as a "part of the show."
Getting the Gig
Ring girls range from local models strutting their stuff at small regional events to professional icons that circle the cage at every major UFC show. UFC ring girl Arianny Celeste first got the gig by winning an open casting call in 2006, and she went on to become a staple at the promotion's events. Brittney Palmer, another UFC ring girl, joined the promotion in 2009. Both models have appeared on the cover of "Playboy" and have expanded their roles outside the cage with hosting duties on UFC television programs.