The time of day, temperature and race distance all count when making appropriate clothing choices for race day. Your preferences and the likelihood of precipitation also matter when it comes to dressing for a race. During your race training, you may have worn clothing that worked well for you based on the weather, and you can apply those same standards to race day. For example, if you usually start out a little chilly wearing running shorts when it's 50 degrees Fahrenheit, but feel comfortable after the first half mile, stick to shorts when racing in similar weather.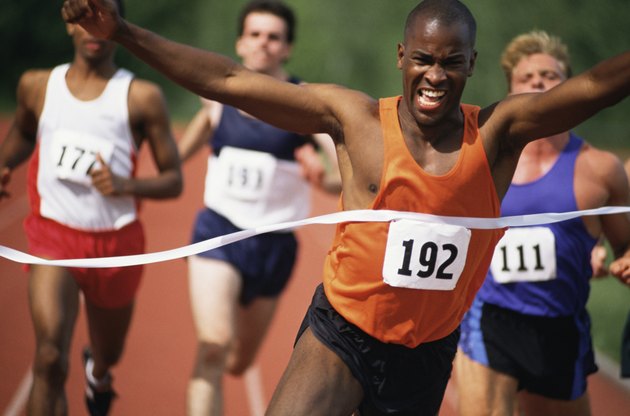 Shoes Are Top Priority
Whether you're racing 3.1 miles or 26.2, you need a well-fitting pair of running shoes that you've worn during training runs. New shoes are more likely to cause blisters so come to the starting line with running shoes that have some miles on them already. Generally, you need to replace running shoes every 300 to 500 miles. If your shoes are approaching their expiration date, invest in a new pair three to four weeks before race day to give you time to train in them before you race.
Start with the Basics
A supportive sports bra for women and socks for everyone are a must on race day. Choose a sports bra designed specifically for high-impact activities and wear it during some of your training runs to make sure chafing or discomfort won't be an issue during the race. Try on several sports bras in the store, opting for one made of wicking fabric that fits comfortably.
Socks protect your feet from blisters and help wick moisture away from your feet during training runs and races. You may prefer thin running socks if thicker varieties are too hot or uncomfortable. However, some runners choose thicker running socks for additional cushioning. Whichever you prefer, wear them when you purchase your running shoes to make sure you get the right fit.
Clothing for the Conditions
The temperature and weather are primary considerations when dressing for race day. Marathon coach, author and former Olympian Jeff Galloway suggests layering a long sleeve shirt over a short sleeve shirt, along with tights, shorts, gloves and a hat or beanie when the temperature drops to 30 to 39 degrees F. When temperatures reach 40 to 49 degrees F, you may be more comfortable without the short sleeve shirt layer; knee-length tights or shorts may be enough for your legs. Take gloves just in case. However, when temperatures reach 50 F or higher, shorts and a short sleeve shirt or singlet are generally more appropriate.
Optional Accessories
Wrap-around polarized sunglasses or other styles designed for runners may come in handy on race day whether it's sunny, windy or rainy. A cap or visor designed for runners may help keep moisture out of your eyes on wet or particularly hot race days. Wear a light sunscreen, if necessary, but Galloway cautions not to apply so much that it impedes sweating. A light waterproof running jacket can help keep you dry when the weather is wet, and you can tie it around your waist if the weather improves.