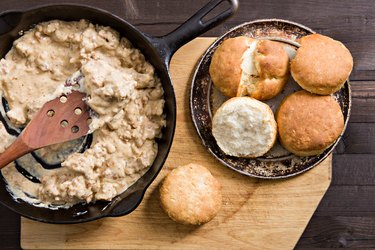 Pancake mix isn't just for pancakes. You can make biscuits from pancake mix too. In fact, you can make a variety of baked goods with it. The mix serves as the foundation, while the additional ingredients determine the final product.
Tip
Add fat, egg and liquid to pancake mix to make biscuits. You can either drop biscuits or roll them out before baking.
What's in Pancake Mix?
Oregon State University has a recipe for homemade pancake mix that you can use as the base for a variety of other recipes. It features whole wheat flour, unbleached flour, instant nonfat dry milk, sugar, baking powder and salt. When you're ready to make pancakes, you combine the mix with water, egg and oil.
Flour, baking powder, milk, salt and sugar are found in many biscuit recipes, so this is why it's possible to make biscuits from pancake mix. If you've got a buttermilk pancake mix, you can make your buttermilk biscuits in a fraction of the time it usually takes.
It's worth mentioning that many commercial pancake mixes can be high in sodium and low in fiber. If you want to make your pancakes as healthy as possible, your best option is to make your own pancake mix where you are in control of the salt content. You can also use whole wheat flour to increase the fiber content.
Making Biscuits From Pancake Mix
The University of Kentucky notes that shortening or fats such as butter, help make tender biscuits and give them a flaky texture. Butter or margarine also adds color and flavor. Solid fats are better for a high-quality biscuit, but if you're trying to reduce your saturated fat intake, you can also make biscuits with oil or another fat substitute. If you choose to make biscuits with oil rather than shortening or solid fats, the resulting biscuit won't be as flaky or light.
Start with 2 1/2 cups of pancake mix. Add 1/3 cup cold milk and 1/3 cup vegetable shortening. Add one egg. Mix together ingredients with a fork until a dough is formed. Transfer to a lightly floured surface. Roll the dough to about 1/2 inch thick; then cut with a biscuit cutter.
Place on an ungreased baking sheet with edges touching. Bake at 400 degrees Fahrenheit for nine to 12 minutes or until golden brown.
If you'd rather make drop biscuits, start with 2 cups of Better Baking Mix. Add 1/4 cup vegetable oil and 3/4 cup water. Stir until just moistened. Drop spoonfuls onto a lightly greased baking sheet about 4 inches apart and bake at 400 F for 10 to 12 minutes.
Other Uses for Pancake Mix
While you can make biscuits from pancake mix, you can also make cookies with pancake mix, and even make pancake mix dinner rolls. The ingredients you add to the pancake mix vary with each recipe, but it's a great way to save time and effort in the kitchen.
To make cookies with pancake mix, substitute the flour in the recipe for pancake mix. The resulting texture will be a bit different, but it works for nearly any cookie you can imagine. Even though it may be tempting to eat the dough, the Centers for Disease Control and Prevention says you should never eat any kind of raw dough.
To make pancake mix dinner rolls, follow your biscuit recipe but add extra ingredients like cheese, garlic and herbs to create something a bit more savory.
The possibilities don't end there. Get creative and use pancake mix to make brownies, funnel cakes, doughnuts and more.