Unlike chlorinated pools that use chlorine tablets to keep the water clean, saltwater pools use dissolved salt and a chlorinator unit. As a result, saltwater pools usually contain fewer chemicals than chlorinated ones. Although some swimmers find saltwater pools gentler on their skin, both types of pools can cause skin irritation and itching. You might notice this irritation most in areas where your swimwear and clothing fits tightly, like your back, stomach and bottom.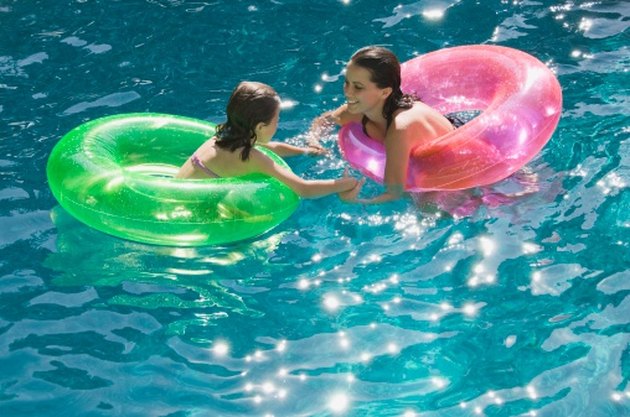 Swimmer's Xerosis
Water strips away the top, protective layers on your skin that seal in moisture and keep it from drying out. Without this layer, the moisture in your skin evaporates rapidly. Tiny cracks can develop and further irritate your skin. Swimmers often shower before and after their swims, which can lead to further depletion of moisture stores.
Contact Dermatitis
Dyes or rubbers in your swimsuit, or irritants in the water such as detergents or soaps, can cause an allergic reaction known as contact dermatitis. This reaction can cause itchy, irritated skin that eventually becomes red, scaly and inflamed. The condition will usually resolve itself as soon as you remove the irritant that provoked the reaction. Try swimming in a different pool environment or changing your swimming attire to see if these measures alleviate the condition. If the itchiness persists, your doctor can conduct skin patch testing to determine the cause of your allergic reaction.
Treatment
Avoid swimming in the pool until the itchiness goes away. Apply nonprescription hydrocortisone cream or ointment to the itchy patches on your skin. If skin redness accompanies the itching, or if the itching interferes with your sleep, call your doctor. He can determine if more serious conditions, like eczema or psoriasis, might be the cause of your skin itchiness. These skin conditions often require treatment with prescription creams and ointments.
Prevention/Solution
Take a short -- five to 10 minutes max -- shower or bath as soon as you get out of the pool to rinse off saltwater and other irritants. Use a gentle, moisturizing soap or soap instead of harsh cleaners. Keep the water temperature warm -- not too hot or cold. Gently pat your skin dry, then immediately apply an oil-based protective moisturizer to seal moisture into your skin.