No set formula can assess how much weight you can lose before your body starts to shut down, but there are ways to tell if you are headed in that direction. Danger signs crop up gradually, as even the most nutritionally deprived and underweight body will not shut down all at once. Starvation instead happens in stages, with the final stage being death.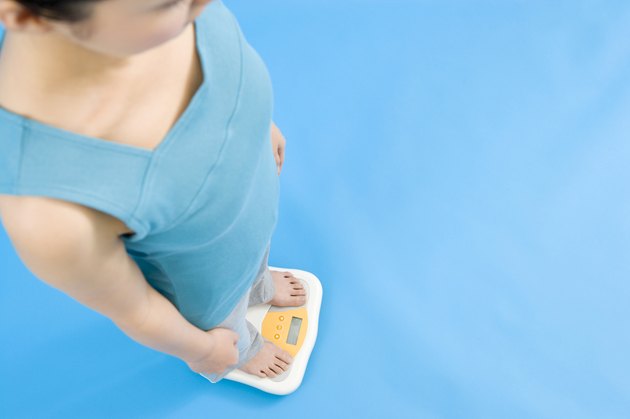 Death
Death is the ultimate result of depriving your body of the nutrients it needs to function. This complete shutdown of the body doesn't come after any specific amount of weight loss, although Encyclopedia.com notes you can lose up to 50 percent of your body weight during the starvation process before you die. If your body received absolutely no nutrients and enters the state of complete starvation, you can expect your body to shut down within 8 to 12 weeks.
Healthy Weight
Maintaining a healthy weight helps keep your body functioning at its optimum level. Your healthy weight is based on a comparison of your height to your weight to assess your body mass index, or BMI. Healthy weights are those with a BMI of 18.5 to 24.9, while an unhealthy weight is anything below 18.5 percent. An unhealthy weight for a 5'8" person, for instance, would be anything below 122 lbs. Dipping below the healthy weight for your height can kick off a range of symptoms that indicate your body is not getting the nutrients it needs and could ultimately shut down because of it.
Symptoms of Starvation
Chronic diarrhea, anemia, immune deficiency and a decreased sex drive are symptoms of starvation. Your heart, lungs, reproductive and other vital organs also begin to shrink and gradually stop functioning. Your muscles also shrink, making you weaker, and your body temperature dips, making you sensitive to cold. You lose your ability to concentrate and can become irritable. Because your body is no longer producing digestive acid, you also lose your ability to digest food. Your stomach or other bodily areas can become swollen from fluid trapped beneath the skin. During the last stages of starvation, you are likely to experience muscle pains, an irregular heartbeat, convulsions and hallucinations.
Symptoms of Malnutrition
Before the symptoms of starvation appear, you can exhibit symptoms of malnutrition. These symptoms, such as anorexia nervosa, are common in people suffering from eating disorders and can serve as a warning sign that your body is not getting the nutrients it needs. The symptoms include dizziness, fainting, abdominal pain, constipation and an irregular menstrual cycle or complete loss of menstruation. Dry skin, low blood pressure and dehydration are other symptoms. Your body can become covered in a soft, downy hair called lanugo. Like the symptoms of starvation, you can also experience an irregular heartbeat and extreme sensitivity to cold.