Distance running is a mental sport, and preparing yourself for a 10-mile run takes mental and physical discipline and training. Whether you have a 10-mile race to train for or simply want to be fit enough to run 10 miles, you can do it with the right preparation and training program.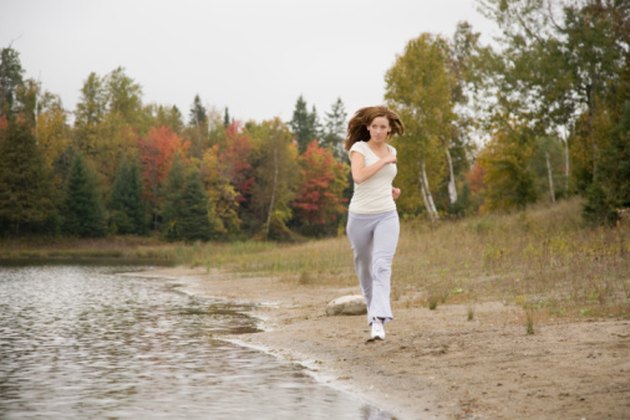 Base Runs
Before training for a 10-mile run, assess your fitness level. If you have been running regularly for at least a month, you will have a fitness base to start from. If you are not used to running, start out by alternating a running and walking program. Do five minutes of walking alternating with five minutes of running, for instance, until you reach 30 minutes. Add a few more minutes of running to the workout each week until you can run for at least three miles without walking. The length of time required to work up to a three-mile run depends on your fitness level and training plan, but plan on at least six weeks if you are new to running.
Long Runs
Once you have built up a running base and can run at least three miles, incorporate one long run a week into your training. Do your first long run at a distance equal to your longest training run in the last two weeks. If you have run up to three miles, do a three-mile run, for instance. Each week, add one mile to your long run until you reach 10 miles. It will take seven weeks to work your way up from a three-mile run to a 10-mile run.
Considerations
Do not try to run far every day until you reach 10 miles. Doing more than one long run a week will put a lot of strain on your body and increase your chances of burnout and injuries. Maintain the running distances of your base workouts and then increase your long run mileage each week. Be sure to give yourself at least one day of rest a week for your body to recover from running.
Precautions
Consult your doctor before beginning a running program. If you are overweight or have a health condition, it may take you longer to reach 10 miles in your training. Before you begin a running program, make sure you have a good pair of running shoes that fit your foot type and training habits.