Cod is a low-fat, low-calorie white fish with a mild taste that you can easily complement with any number of seasonings. In fact, cod is such a versatile fish that you can experiment with different combinations of herbs and spices, both dried and fresh, to create new and exciting flavors. Enjoy the final result with a side of steamed vegetables or use the flavorful baked cod as an ingredient in other recipes and dishes.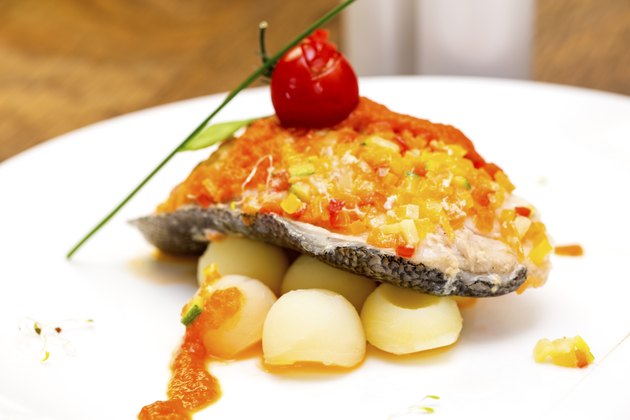 Before You Cook It
Step 1
Rinse the fish under cool running water.
Step 2
Rub the fish with olive oil or other cooking oil to help the seasonings stick to the fish.
Step 3
Sprinkle the fish with dried herbs and spices, such as paprika, rosemary or basil, as well as salt and pepper. Cayenne powder, onion powder, coriander, turmeric and ground mustard are a few additional herbs and spices to consider.
Simple Seasoning Ideas Once the Cod Is Baked
Step 1
Drizzle the baked cod with cooking oil, such as olive oil, to add a burst of flavor, as well as heart-healthy unsaturated fats.
Step 2
Shake salt, pepper or dried herbs and spices over the baked cod just before serving it. In addition to the spices used before baking the cod, the additional of a shake or two of these will infuse the fish with added flavor.
Step 3
Chop fresh herbs, such as parsley, dill, rosemary, basil or oregano, and scatter them over the baked cod just before serving it. It only takes a sprig or two of fresh herbs per cod filet to add a good dose of flavor. More than that, however, will start to overpower the mild taste of the fish.
Alternate Seasoning Suggestions
Step 1
Squeeze fresh lemon juice over the baked cod. In addition to a tiny amount of vitamin C, the lemon juice will add a tart flavor to the fish. Use lime, orange or grapefruit juice in place of the lemon juice for a slightly different flavor.
Step 2
Top the baked cod with a fresh fruit salsa. Use diced mango, pineapple and jalapeno for a tropical-inspired fruit salsa or chopped oranges, grapefruit and red onions for a milder fruit salsa.
Step 3
Spoon some homemade vegetable salsa over the baked cod. Try diced tomatoes, red onions, minced garlic and mashed avocado for a savory salsa or use habanero peppers, chopped tomatoes and lime juice for a spicier salsa.
Things You'll Need
Dried herbs and seasonings

Salt

Pepper

Cooking oil

Fresh herbs

Fresh lemons

Fresh fruits and vegetables
Tip
Use your seasoned baked cod to make flavorful fish tacos. Shred the baked cod and stuff it inside corn tortillas along with shredded cabbage and fresh salsa for a meal rich in protein and fiber that's also low in fat.
Soak the raw fish in a marinade before baking it. This will infuse the fish with added flavor separate from the seasonings you use before and after you cook it.