Clicking of the elbow while flexing or performing biceps curls indicates an intra-articular or inside the joint damage, according to a 2000 "American Family Physician" article. Clicking may be accompanied with pain, swelling and joint stiffness. Risk factors include previous elbow injuries, joint instability and repetitive elbow movements or overuse. Conservative treatment may help manage symptoms, but surgery is needed to eliminate the clicking. Consult your physician if symptoms worsen or if clicking becomes painful.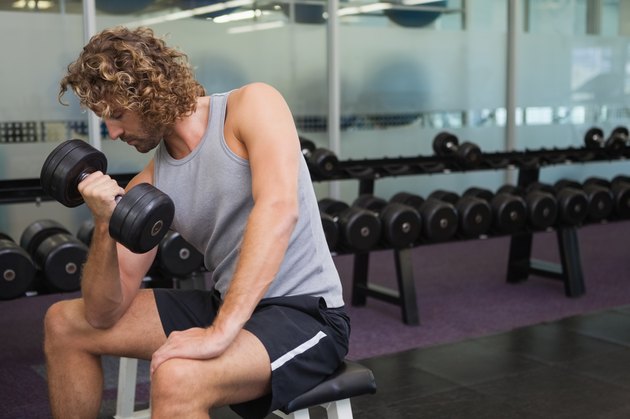 The Works
Your elbow is comprised of the humerus or upper arm bone and the two bones of your forearm, the radius and ulna. Cartilage is located between the bones at the elbow to prevent friction and provide smooth movement of your elbow. Ligaments around your elbow include the radial and ulnar collateral ligaments and help stabilize the joint.
Clicking and Catching
When a piece of cartilage or bone breaks off or is torn off, it causes clicking, catching and locking during elbow movement. Chondromalacia or fraying of the cartilage, arthritis and osteophytes or bone spurs can lead to loose cartilage and clicking. A forceful dislocation of your elbow due to a fall can also cause cartilage and bone to break off. When a loose piece of bone is deprived of its blood supply, it is referred to as osteochondritis dissecans.
Repetitive Strain
Baseball, tennis and weight training may increase your risk of injury and elbow clicking with flexion due to repetitive movements and strain on the elbow. According to a 2005 article in the journal "Clinical Sports Medicine," repetitive movements or overuse of the elbow can lead to chondromalacia, arthritis and loose cartilage over time. Previous elbow injuries such as tendonitis, joint instability and chronic dislocations and inflammation can also make you more susceptible to joint degeneration and clicking. Additional risk factors include your age, arm strength and flexibility.
Elbow RX
Conservative or non-surgical treatment includes rest, ice and anti-inflammatory drugs such as acetaminophen. Wear a brace or elastic warp for support and compression. Forearm stretches, a warm-up before activities and physical therapy may further reduce pain and swelling often associated with clicking. An example of a forearm stretch is to put your palms together with your elbows at 90 degrees. Slowly push your wrists back and hold. If clicking is not painful and you have a low activity level, conservative treatment should be sufficient. Arthroscopic surgery is recommended for athletes, painful clicking and osteochondritis dissecans. During surgery, the loose cartilage and bone are removed, also called debridement and any osteophytes are shaved off. Physical therapy after surgery includes stretches and strength exercises to regain elbow range of motion and strength. Slowly progress back into activities such as weightlifting to prevent future damage.