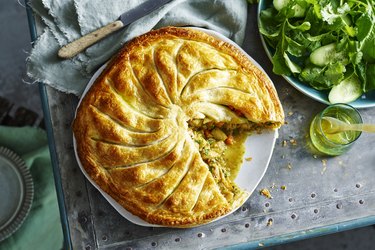 Chicken pie recipes can vary based on the cut of chicken, type of vegetables and thickness of pastry dough. Despite these differences, chicken pies generally have a similar cook time of around 30 minutes. Frozen chicken pies usually require 50 percent more time in the oven.
Healthy Chicken Pie Recipes
According to the USDA, most chicken pot pies are around 302 grams and have 616 calories. Chicken pot pies typically have 15.4 grams of protein, 35.8 grams of fat and 58 grams of carbohydrates. They're also rich in a variety of essential vitamins and minerals, particularly manganese, selenium, vitamin K and B-complex vitamins.
Chicken pot pie can be healthy, but there are certain aspects that can make them less so. For instance, pastry dough is often very rich in saturated fat because it's made with butter. There aren't many ways of getting around this — the ideal pastry dough is crunchy and flaky.
Even vegan pastry dough, which is made with margarine or coconut oil, isn't that healthy. According to Harvard Health Publishing and the Cleveland Clinic, both of these ingredients are rich in saturated fat too.
If you're interested in a healthy chicken pot pie low in saturated fat, you'll likely need to make your own chicken pie. While it's tough to reduce the saturated fat in your dough, you can always opt for low-fat ingredients in the interior of the pie. This includes choosing low-fat cuts of chicken, like chicken breast. The American Heart Association typically considers lean meats like chicken breast to be healthiest, especially when skinless.
Most chicken pie recipes call for ingredients like butter, milk or cream to make your filling. You can replace these ingredients with healthier monounsaturated or polyunsaturated fats like olive oil or flaxseed oil, and plant-based creams like oat cream.
Making Chicken Pot Pie Filling
Chicken pie recipes typically include chicken, vegetables and pastry dough. If you want to create your own chicken pot pie at home, every pound of boneless, cubed chicken breast will need to be combined with other ingredients, including:
Things You'll Need
1/2 cup of roughly chopped celery

1/2 cup of roughly chopped carrots

1/2

cup of minced red onions

1/2

cup of roughly chopped leek

1/2

cup of diced russet potatoes

1/2

cup of minced parsley leaves

1/2

cup of minced coriander

1/2

teaspoon of black pepper

1/2

teaspoon of garlic salt

1 1/2

cups of chicken bone broth

150 milliliters of white wine

1/2

cup of oat cream or full cream milk

A few tablespoons of your choice of fat, like extra virgin olive oil or butter
For the richest flavor, cook the chicken and all of these vegetables together in chicken bone broth, white wine and your choice of fat. The cream or milk should be added in at the end, at low heat.
The entire mixture should be creamy and thick, thanks to the starch from your vegetables. If your mixture isn't thick, add a tablespoon or two of flour or cornstarch to thicken it. Only add the spices and herbs in at the last moment. This amount of pie filling can result in one large pie (9-inch container) or four small pies.
Cooking Frozen Chicken Pot Pies
Chicken pot pies have pie crust layering the bottom and the top. The chicken mixture should be fully mixed and poured into a container that's already been lined with pie crust. You then need to cover the top with pie crust too. Cut slits into the top to help steam escape.
Because chicken pot pie takes a fair amount of effort, it's common to make multiples and freeze them. You can freeze meat pies at this unbaked stage or after baking.
The average chicken pot pie takes 30 minutes to cook at 350 F (177 C), but the total cooking time will depend on the exact size of your pie. Larger pies may take up to 60 minutes to fully cook.
An uncooked, frozen chicken pot pie's cook time is around 50 percent longer than a pie that's freshly made. This means you may need to cook your pie for an hour to an hour and a half, depending on its size.
If you've precooked your frozen chicken pot pie, it will need a shorter cooking time. However, you'll still need to cook it for at least 15 to 30 minutes for it to heat all the way through.