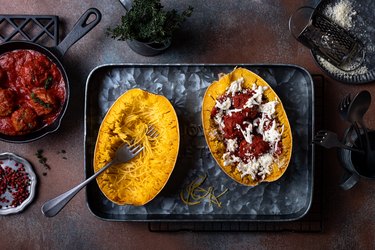 Spaghetti squash is a summer squash that resembles the popular pasta when cooked, with the inner flesh coming out in strings that look like noodles. It's a good alternative to pasta — especially if you're cutting back on refined grains.
Spaghetti squash has just 42 calories and 10 grams of carbs per cup, according to the USDA. Spaghetti squash has a mild, slightly sweet taste that manages to stand up even to strong meats, and it complements a variety of flavors. Here's what to eat with spaghetti squash.
Spaghetti squash with meat sauce or meatballs is a delicious substitute for the dish made with pasta. Ground beef makes a good base for a quick meat sauce with canned tomato sauce or a homemade bolognese that simmers for an hour or two. Serve over the squash exactly as you would with regular pasta noodles.
A thick ragu made with minced beef also works well served over the squash. For something different, top the squash with a thick and hearty beef stew.
Beef Recipes to Serve With Spaghetti Squash
You can easily substitute lamb for ground beef in a meat sauce or ragu recipe and serve it over spaghetti squash.
The slightly sweet squash complements the rich flavor of lamb well. If you want something a little more traditional, serve the squash as a side dish next to a cut of lamb that stands on its own.
Try adding scallions and fresh mint leaves to the squash rather than using a mint sauce for lamb chops. You can also toss the squash with a simple dressing of olive oil and herbs and serve next to a roast leg of lamb, which will be the star of the show.
Lamb Recipes to Eat With Spaghetti Squash
Both pork and spaghetti squash take well to sauces, so set your imagination free when pairing the two.
Top a plate of spaghetti squash with sliced medallions of pork loin and spoon on a fruit-based sauce, such as blackberry or cranberry sauce. Try a mushroom sauce for pork chops and a side of squash. For an Asian-inspired dish, stir-fry cubes of pork with scallions, peppers, carrots and spaghetti squash in place of noodles and season with ginger and garlic.
Pork Recipes to Serve With Spaghetti Squash
Chicken or turkey stir-fry is a natural for pairing with spaghetti squash. Using the microwave to cook the squash and using skinless, boneless chicken for the stir-fry makes this a quick meal to make when you're in a hurry.
Chicken and turkey take to a wide variety of flavors, so try cooking with Italian herbs and tomatoes or with peas and curry spices. Toss the cooked squash with the stir-fry for the last few minutes.
For a richer dish, top spaghetti squash with slices of roast duck.
Poultry Recipes to Serve With Spaghetti Squash