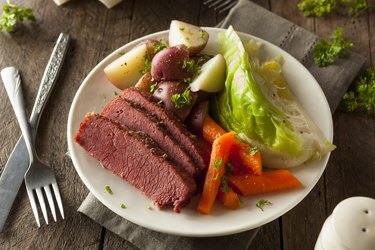 This electric roaster corned beef recipe is perfect if you're looking for a simple-yet-traditional St. Patrick's day dinner that's full of flavor. Plus, depending on the size of your roast, you'll have plenty of leftovers for the days ahead.
What Is Corned Beef?
Corned beef is beef brisket that's been brined or cured using salt water or sodium nitrite, which gives it that distinct pink color, according to Ohio State University. It's a popular staple in Irish cuisine in dishes like corned beef hash and corned beef and cabbage, though it can be prepared and served on its own or with separately-prepared sides.
How to Make Corned Beef in an Electric Roaster Oven
Some people choose to simmer corned beef on the stove, while others cook it in a slow cooker or roast it in a regular oven.
Our corned beef recipe is made using an electric roaster oven, which can help the meat cook faster and retain more moisture so the end result is tender, juicy and full of flavor.
Not to mention, using an electric roaster to cook corned beef keeps your stove and kitchen oven free, so you can cook up other St. Patty's day favorites like shepherd's pie or homemade Irish soda bread.
Things You'll Need
8 lb. corned beef brisket

Paper towels

Electric roaster

Sharp knife, for trimming the roast

2 cups liquid (water, apple juice or apple cider or dark beer work best)

1/2 cabbage, cut into wedges

8 small potatoes, quartered

2 small onions, quartered

4 large carrots, cut into 1-inch pieces

2 medium rutabagas, peeled and quartered

Serving platter

Foil
Take the brisket out of the refrigerator and allow it to sit for 30 minutes on your kitchen counter to come to room temperature.
Preheat your electric roaster for 10 to 15 minutes at 250 degrees Fahrenheit.
Pat the meat with paper towels so it's completely dry, then trim most of the surface fat off with a sharp knife.
Place the brisket in a roaster pan that fits into the electric roaster.
Add your liquid to the pan.
Put the roasting pan in the roaster, and put the lid on.
After 4 hours, test the temperature of the corned beef with your meat thermometer. Once it reaches 140 degrees F, place the cabbage, potatoes, onions, carrots and rutabaga around the roast.
Put the lid back on, and let the roast cook for another hour.
Corned beef retains its pink color when cooking. You'll know it's done when the internal temperature reaches 145 F, per the USDA.
Remove the corned beef from the roaster and place it on a serving platter.
Cover the corned beef loosely with foil and let it rest for 15 minutes before slicing so the juices distribute evenly.
Drain the vegetables and serve them beside the sliced corned beef, or serve them as soup with the broth from the roast.
Tips for Cooking Corned Beef in an Electric Roaster
A smaller roast may not need to cook as long in an electric roaster. Check the temperature after 2 hours for a brisket under 4 pounds.
Use the leftover corned beef for sandwiches with coleslaw. Reheat leftover vegetables in some of the broth from the roaster.
If you purchased a seasoned corned beef brisket, rinse the seasonings off and pat the meat dry before cooking it in your electric roaster. Corned beef has a distinct flavor, so you won't need seasonings other than the onions and vegetables that are cooked with the meat.
What to Serve With Roasted Corned Beef
This roasted corned beef recipe is great served on its own, but it also pairs well with sides like: