Poor dietary choices often lay the foundation for high blood pressure, a condition that about one out of three Americans develops. If you are sensitive to the sodium in salt, consuming too much of it raises your blood pressure. Because the mineral potassium tempers sodium's effect on blood pressure, consuming too little potassium contributes to abnormal blood pressure as well. The salt added to some meats and seafood can make your protein food selection key to controlling your blood pressure.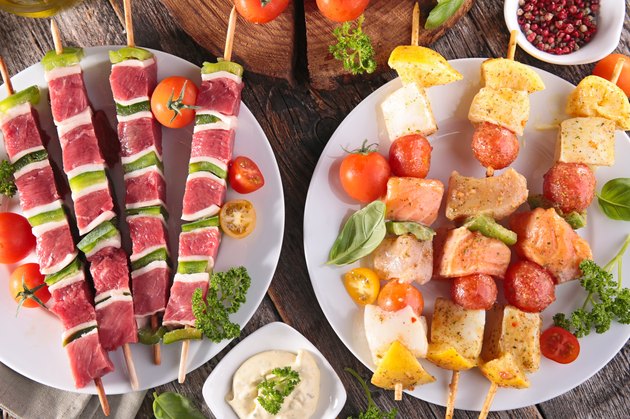 The Sodium-Potassium Balance
When your body contains more potassium than sodium in the right amounts, it is able to maintain the correct fluid balance in and around cells. When the ratio flips, more fluid surrounds the cells and enters the cells and bloodstream. This increases pressure on the walls of the arteries. The U.S. Department of Agriculture considers 2,300 mg of sodium and 4,700 mg of potassium per day appropriate for healthy people, while those with high blood pressure should reduce sodium intake to 1,500 mg.
Best Meat and Seafood Choices
According to the Harvard School of Public Health, eating unprocessed and organic food is an effective way to cut your salt intake and achieve healthy daily values, or DVs, of sodium and potassium. Fresh unsalted hamburger, for instance, has 64 mg of sodium per 3 oz., while a fast-food hamburger has 520 mg of sodium. Among fresh beef, pork, chicken and fish, pork loin has the lowest sodium and highest potassium ratio, in general. Among seafoods, yellowfin tuna, rockfish and salmon have the healthiest sodium-potassium profiles.
Foods to Avoid
Many cured meats and fish such as sausages and smoked salmon have far larger proportions of sodium than potassium.Two slices of bologna have 417 mg of sodium, and two slices of salami have 822 mg of sodium, but each choice has only 179 mg of potassium; that is 50 percent or more of your entire DV of sodium, and just 4 percent of your DV of potassium. Hot dogs, bologna, breaded and fried oysters, pickled herring and canned sardines, tuna and shrimp all have similar compositions that can lead to or exacerbate high blood pressure. Restaurant meat and seafood preparations with gravies or sauces may be highly salted as well.
Considerations
While processed foods provide 75 percent of all the salt consumed in America, adding salt during cooking and eating also increases your sodium intake. Consuming highly salty foods over time can cause chronic high blood pressure, which damages your heart and blood vessels. High blood pressure is a major risk factor for potentially fatal heart disease, stroke and kidney failure.
Is This an Emergency?
If you are experiencing serious medical symptoms, seek emergency treatment immediately.