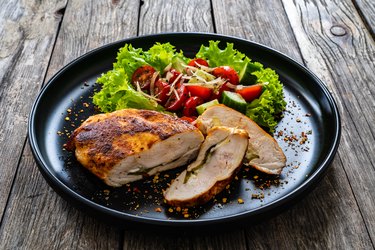 Whole chickens that have been deboned and stuffed with a savory filling make an easy main course. You can find prepared stuffed chickens in the fresh or freezer sections of most grocery stores, or prepare your own filling.
Stuffing your own chicken helps you cut back on the high fat and calorie levels often found in prepared foods. By stuffing your own chicken, you also ensure there aren't any preservatives or other chemicals in your meal.
Things You'll Need
Chicken

Large bowl

Ingredients for stuffing chicken, such as ground pork, cheese, vegetables and herbs

Cutting board

Kitchen twine

Rimmed baking sheet

Aluminum foil

Meat thermometer
Ask a butcher to debone a chicken for you.
Mix together a stuffing for the chicken in a large bowl. Combine favorite ingredients, such as lean ground pork, cheese and herbs.
Lay the chicken flat on a cutting board, skin side down, and dump the filling on top of the chicken.
Spread the filling evenly over the chicken.
Wrap the chicken around the filling, rolling the meat up from one end to form a log shape.
Tie the chicken tightly together around the filling with kitchen twine.
Cook the chicken immediately after stuffing.
Preheat the oven to 375 degrees Fahrenheit.
Place a fresh stuffed chicken breast on a rimmed baking sheet.
Cover the sheet with aluminum foil if the breast is frozen.
Place the chicken in the oven and cook, undisturbed for an hour and 15 minutes if fresh. If frozen, cook the chicken covered for an hour and 45 minutes, then uncover the dish and cook for another 30 minutes.
Use a meat thermometer to check the doneness of the chicken. Remove the chicken from the oven when the internal temperature of the chicken reaches 165 degrees Fahrenheit.
Tip
Stuff the chicken with brown rice and vegetables without cheese or meat to cut back on the amount of fat in the final dish. Remove the skin from the chicken before eating to further reduce your fat intake.