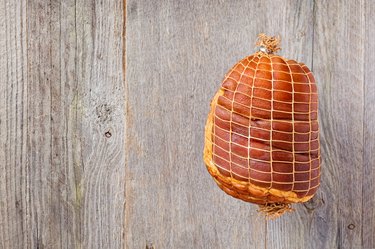 If it's your turn to entertain the family for the holidays, you may be thinking smoked gammon joint, which is the term the British use to describe bone-in uncooked ham. Cooking a smoked gammon joint takes some time. But there are a few options.
Tip
You can boil it first and then finish off your smoked gammon joint by roasting it in the oven. Boiling first may make the meat less salty. Or you can simply slow roast it in the oven.
Cooking Gammon: Boil or Roast
You may be debating whether you should boil or roast your gammon. But a traditional smoked gammon joint recipe suggests you use both methods of cooking, which helps reduce some of the saltiness of the meat and gives you an opportunity to add more of your own flavor.
Cooking time may vary depending on the recipe you're using. When boiling and then roasting, it's generally recommended that you cook your whole bone-in ham for 20 minutes for every pound. So an 8-pound smoked gammon joint would require 2 hours and 40 minutes of total cooking time.
To begin, place your meat in a large stock pot and fill it with cold water. Place the pot on the stove and bring the water to a boil. Add various seasonings as the meat cooks, such as bay leaves, coriander, peppercorns and/or cinnamon. Bring your pot to a boil, then lower the heat and simmer the smoked gammon joint for half the needed cooking time, or 1 hour and 20 minutes. Add more water to the pot as needed.
Drain the water from the pot, reserving some of it to add flavor when cooking your potatoes or veggies. Place the smoked gammon joint in a large foil-lined roasting pan and remove the skin, but leave the fat. Roast the meat in a preheated 350-degree-Fahrenheit oven for the remaining cooking time, 1 hour and 20 minutes for an 8-pound smoked gammon joint.
About 20 minutes before your smoked gammon has finished cooking, cover the meat with your favorite glaze.
Slow Roast Gammon
If you're still debating about cooking gammon — boil or roast — roasting is a simple technique that lets your oven do most of the work as in this LIVESTRONG.com recipe. For the following variation, you'll need:
8-pound smoked gammon joint
4 cups of apple juice
Preheat the oven to 350 F.
Place the smoked gammon in a large roasting pan and pour the apple juice over meat.
Add enough water to cover the meat.
Cover the meat with foil and place in the oven.
Roast for two hours and turn the meat, adding more liquid if needed.
Roast for another two hours or until your meat has reached desired cooking temperature.
FoodSafety.gov recommends you cook your smoked gammon joint until it reaches an internal temperature of 145 F. Cooking to this temperature will kill any potential pathogens that may make you sick. By comparison, cooked ham needs to be reheated to an internal temperature of 165 F.
Consider adding a roast ham glaze to your slow roast gammon. Mix together pineapple juice, honey, allspice, fresh ginger and sweet chili paste in a small bowl and brush your meat before serving. Serve with your favorite roasted vegetable recipe, such as a LIVESTRONG.com recipe for Roasted Green Beans, Mushrooms and Onion or Roasted Cauliflower seasoned with salt, pepper and turmeric.
Gammon Nutrition Information
According to food nutrient data from the USDA, a 3-ounce portion of roasted bone-in ham with the fat trimmed off contains:
112 calories
22 grams of protein
2.6 grams of total fat
0.8 gram of saturated fat
60 milligrams of cholesterol
0.5 gram of cholesterol
Despite being low in fat and saturated fat, smoked gammon joint can be high in sodium. A 3-ounce portion of roasted ham has 719 milligrams of sodium. The American Heart Association recommends consuming no more than 2,300 milligrams of sodium a day and ideally no more than 1,500 milligrams.
A small portion of your slow roast gammon or boil and roast gammon may meet 30 to 50 percent of your daily sodium needs. Too much sodium increases blood pressure and your risk of stroke and heart attack.
Processed meats like smoked gammon joint also have other health consequences. According to an April 2016 meta-analysis prospective cohort study published in Public Health Nutrition, a diet high in processed meats, like smoked gammon or ham, may increase your risk of heart disease and cancer.