Your blood naturally contains two types of cholesterol, a good kind called HDL and a potentially harmful type called LDL. Cholesterol is needed for certain bodily functions, but it causes problems if your levels get too high. Adults have recommended average cholesterol levels, and you face an elevated risk of health issues if you have a blood test that reveals an elevated reading for your total or LDL cholesterol.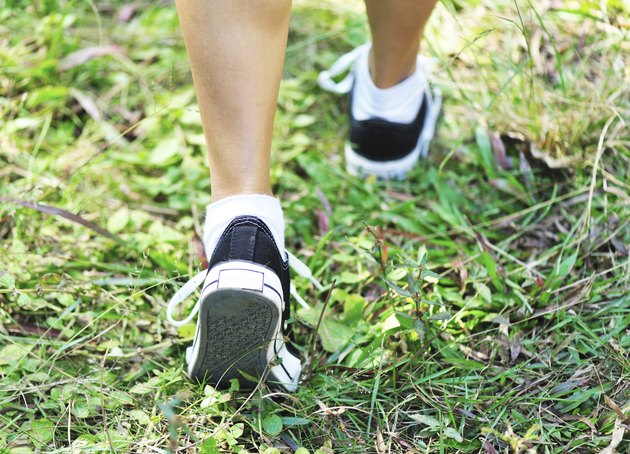 Average Levels
A 56-year-old woman should have the same average cholesterol reading as any adult, which is anything below 200 mg/dL. People with cholesterol levels within that range have a lower risk of coronary artery disease, the American Heart Association advises. Middle-aged women with levels between 200 and 239 are borderline high, with a somewhat increased health risk. Levels over 240 more than double a woman's risk of developing coronary artery disease.
Factors
Many lifestyle factors affect a woman's cholesterol level. Women with a body mass index over 30, those who smoke, eat a high fat diet and are sedentary have higher readings, according to the Mayo Clinic. Medical conditions like high blood pressure and diabetes also elevate cholesterol levels. Getting regular exercise and eating certain foods, like oatmeal, fish, olive oil and nuts, reduces your cholesterol. Physical activity should be for at least half an hour, as many days per week as possible.
Testing
Middle-aged women who want the most accurate cholesterol reading need a blood test that measures their total serum cholesterol level. The results include an overall cholesterol reading and a breakdown of HDL and LDL cholesterol numbers, as well as your triglyceride number, the AHA explains. You may have an average total cholesterol reading but lack enough beneficial HDL cholesterol.
Considerations
Statins are a class of drugs prescribed for people with high cholesterol levels. These medications help lower LDL cholesterol levels, bringing down heart attack and stroke risks. Normally, statins are prescribed for people with high readings, but some research indicates they might be beneficial for adults with average readings, too. A 2008 study called the JUPITER trial found that statins slashed stroke and heart attack occurrences so greatly that the trial was stopped two years early because the medicated group was doing so much better than the control group. Study results were published in the "New England Journal of Medicine." This research indicates that women in their 50s and 60s, a time when cardiovascular risks naturally increase, may benefit from taking preventative statins even if their cholesterol readings are normal.
Is This an Emergency?
If you are experiencing serious medical symptoms, seek emergency treatment immediately.