There's no clear answer for if jogging, running or cycling is better since the needs for individuals will be different. Jogging, running and cycling all have their benefits and disadvantages, as well as injury risks. If you have physical activity limitations due to a medical condition, consult with your doctor before choosing an aerobic activity.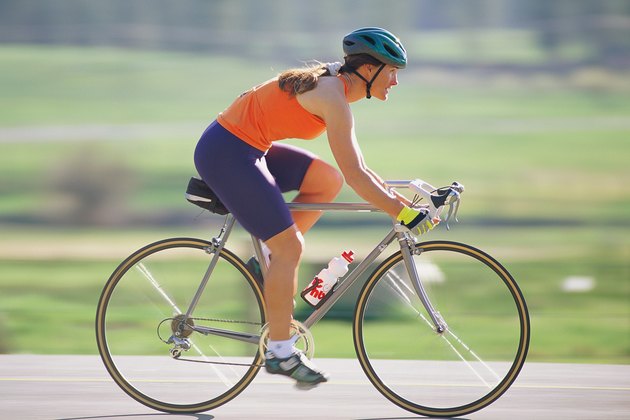 Jogging and Running Benefits
Jogging and running are good options for people that want exercise to be accessible, promote bone health and burn a significant amount of calories. Jogging is a moderate-intensity aerobic activity and may be better for people who are building endurance while running is a high-intensity aerobic activity that is better for people with built endurance. Both jogging and running are weight-bearing exercises that reduce your risk of osteoporosis. If a person weighing 150 lbs. jogs for 30 minutes, he or she will burn 238 calories. If a person weighing 150 lbs. runs for 30 minutes, he or she will burn 342 calories, so the weight-loss benefits of running are more significant than jogging. Treadmills allow you to jog or run indoors if the weather does not warrant outdoor activities.
Cycling Benefits
Cycling is a better option for people with arthritis or osteoporosis because it's not a weight-bearing aerobic activity, so you're not placing additional stress on your bones and joints. Someone suffering from osteoporosis should always ride a stationary bike to reduce their risk of falling. Cycling can range from a low-intensity casual bike ride to a high-intensity ride going 15 miles per hour or more. Cycling is good for someone who has difficulties fitting exercise into a daily routine because it can take the place of your car and you can take your bike to work, school and wherever else you need to go. If you weigh 150 lbs. and cycle at 12 to 14 miles per hour, you can burn 297 calories. A bicycle will not need to be replaced as often as running shoes.
Running and Jogging Disadvantages
Jogging and running should always be avoided by someone with osteoporosis since these activities increase compression of the spine and lower extremities, making you prone to fractures. If you choose to jog or run on a treadmill, you run the risk of stepping off the moving belt and being thrown from the machine. If you run or jog outdoors, you run the risk of stepping off the sidewalk and twisting or fracturing your ankle. Shoes also need to be replaced every 500 to 600 miles.
Cycling Disadvantages
Sweating while cycling can cause you to lose minerals. Cycling can also be painful for someone with arthritis of the hands and knees, carpal tunnel or tennis elbow. Cycling can also have a cost disadvantage since a good bike can easily cost a few hundred dollars or more.
Considerations
Jogging, running and cycling can all cause injuries. Plantar fasciitis can occur from running and jogging and causes the tissue that creates the arch of your foot to become inflamed. There are also several wear and tear injuries that can occur to your knees, legs and back. Running or jogging on hills increases stress on your knees and ankles. Overuse injuries that occur from cycling are iliotibial band friction syndrome and patellofemoral pain syndrome.