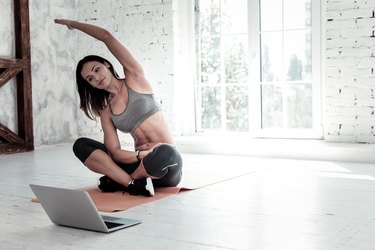 Online fitness training is the perfect solution for people short on time or money. Taking online fitness classes in the comfort of your own home is convenient, private and cheaper than a gym membership and a personal trainer. The best online fitness training websites offer variety, innovation, quality instruction and ease of use.
The Daily Burn
The Daily Burn offers over 1,000 workouts available to stream online, including high-intensity cardio, dance, strength training and yoga. Classes are upbeat, engaging and challenging and taught by certified professional trainers.You'll also find classes taught by celebrity trainers including Bob Harper of "The Biggest Loser."
A monthly membership is $19.95 at the time of publication and includes unlimited access to all classes and the ability to tailor your workout plan to your goals. You can also participate in the online Daily Burn community to get and give motivation.
Gym America
Gym America is a one-stop shop for all your fitness goals. Choose from hundreds of expert-designed workout plans tailored to your level of fitness and personal goals. Gym America also offers personalized diet plans so you can stay on track with goal-specific meals plans and recipes.
Track your workouts and diet, participate in weight loss and fitness challenges, set up a personal profile page and link with friends and use the iPhone app for real-time tracking. At the time of publication, an exercise and nutrition membership is $12.99 per month.
Fitocracy
Become a "fitocrat" and you'll get "your very own personal trainer that provides everything you need to get in the best shape of your life," according to the Fitocracy website.
This starts with a fitness assessment by an expert coach, who will then create a personal plan for you including personalized nutrition and custom workouts. Frequent contact with your coach helps hold you accountable and keep you motivated. Plans start at $1 a day. You choose the coach who best meets your needs, or get a recommendation from the Fitocracy staff.