According to National Oceanic and Atmospheric Administration Fisheries, haddock is a type of fish belonging to the cod family. In the United States, all haddock are wild-caught, making them a good choice for your dinner, as they are not over-fished, and are sustainable under U.S. regulations.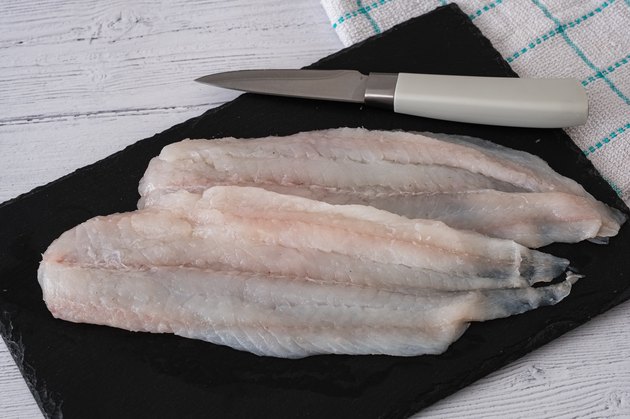 Baked Haddock Nutrition
When it comes to adding fish to your diet, the American Heart Association recommends between two to three servings of fish each week. The recommended serving size for each serving of fish is 3 ounces.
Haddock also provides small amounts of minerals like potassium, magnesium and zinc, which help muscles contract, ensure the proper functioning of nervous impulses and aide overall growth of the body. It is rich in two minerals: phosphorous and selenium.
A 3-ounce serving of haddock offers 19 percent of the daily value of phosphorus, a mineral necessary in teeth formation, and 49 percent of the daily value of selenium. The body requires selenium for its antioxidant properties, and diets rich in selenium can help prevent the incidence of diseases like cancer and boost immunity.
Baked haddock also offers 75 percent of the daily value of vitamin B12, a key vitamin allowing the body to make red blood cells. According to a March 2018, study published in Movement Disorders, low levels of vitamin B12 have a negative impact on individuals with Parkison's disease, decreasing their levels of mobility.
Best Way to Cook Haddock
Haddock's firm but tender texture makes it an excellent fish to use in recipes that require a mild flavor. According to the USDA, cooked or broiled haddock recipes are lower in calories, when compared to salmon, or even to smoked haddock — a 3-ounce serving offers just 77 calories, or 4 percent of the daily value, as opposed to salmon's 7 percent, or 133 calories, per 3 ounce serving.
Since haddock has a firm texture, this makes it a suitable choice for pan-fried haddock recipes, as the fish will not break up when fried. Adding garlic, salt and pepper enhances the mild, yet sweet, taste of the haddock fillets.
Broiled haddock recipes are quick and easy options for cooking your haddock fillet. You can substitute haddock in place of cod, in this simple LIVESTRONG.com recipe, for a flavorful weeknight dinner meal. Similarly, haddock can be used in place of tilapia in our Healthy Lunch Fish Tacos recipe, resulting in firmer, moister tacos.
Baked Haddock Ingredients
Haddock fillet: A 6-ounce haddock fillet is high in protein and low in fat and, as a result, doesn't take a long time to cook in the oven. If using frozen fish, it can be safely and quickly thawed in a bowl of cold water, but must be cooked immediately after thawing, explains the USDA.
Spices: salt and pepper. For a bit of spice, you can add some red chili powder while seasoning the fillets.
Additional ingredients: garlic, asparagus, green beans and red peppers. Brown rice and cubed sweet potatoes to serve.
Tip
TIP: For a complete meal recipe serve with a side of freshly-cooked brown rice, and cubed sweet potatoes.
Baked Haddock Recipe
Preheat the oven: Preheat the oven to 450 degrees Fahrenheit. The USDA's Food Safety and Inspection Service explains that fish and shellfish should reach an internal minimum temperature of 145 Fahrenheit before it's considered safe for consumption.

Season your fillets: Pat the fresh or frozen haddock fillets dry before seasoning with salt and pepper.

Add cubed vegetables: Put olive oil in an oven-safe pan. Add in the garlic, sweet potatoes, asparagus, green beans and peppers. Bake for 5 minutes, or until the vegetables are halfway cooked.

Bake haddock fillets: Add the seasoned haddock fillets to the pan. Let bake for 15 to 20 minutes, or until the fish is easily flaked with a fork, and the meat thermometer reads 145 F.