Defrosting pork chops, or any meat or fish, requires safety precautions in order for the food to be edible and remain risk-free for foodborne illness. The U.S. Department of Agriculture does not recommend leaving meat or fish sitting out on the counter at room temperature to thaw. Defrosting meat or fish requires temperatures below 40 degrees Fahrenheit, such as in a cold refrigerator. When defrosting pork chops, the safest methods include the refrigerator, cold water or the microwave. For the quickest method to defrost pork chops, follow either the cold water or microwave method. The pork chops must then be cooked immediately or bacteria may grow on the surface of the meat.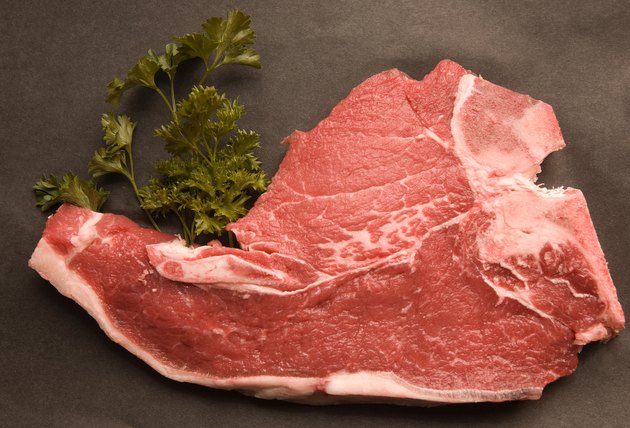 Cold Water
Step 1
Remove your pork chops from the freezer and put them in a tightly sealed container or leak-proof plastic bag.
Step 2
Pour cold water in a large bowl and place the sealed pork chops in the water. Make sure the pork chops are fully submerged, but that no water can get inside the container or bag; this could contaminate the meat with bacteria and make it soggy.
Step 3
Soak the pork chops for an hour, changing the water after 30 minutes, for amounts up to 1 lb. An additional hour or two may be needed for 3 to 4 lbs. of pork chops.
Microwave
Step 1
Remove the pork chops from the freezer, unwrap them and place them on a microwave-safe plate.
Step 2
Place the pork chops in the microwave and defrost the meat using the "thaw" or "defrost" setting for 30 seconds.
Step 3
Turn the pork chops over and thaw them for another 30 seconds.
Step 4
Continue defrosting the pork chops in this manner until they have thawed.
Things You'll Need
Container or bag

Bowl

Microwave-safe plate
Tips
Defrost pork chops in the refrigerator for 24 hours; this method allows for refreezing the meat, if necessary.
Pork chops that have thawed in the refrigerator can be kept in the refrigerator for up to 5 days before cooking.
Frozen pork chops can be cooked without thawing.