No doubt, at one time or another, you've experienced tummy trouble. But if your tummy gives you problems often, you may have a sensitive stomach. Usually triggered by certain foods or situations, a "sensitive stomach" is a term used to describe a variety of stomach ailments including nausea, vomiting, indigestion, bloating or heartburn. You may notice that eating certain foods exacerbates your symptoms. A bland diet, made up of foods that are easy to digest, may help alleviate symptoms associated with your sensitive stomach. Consult your doctor before making changes to your diet.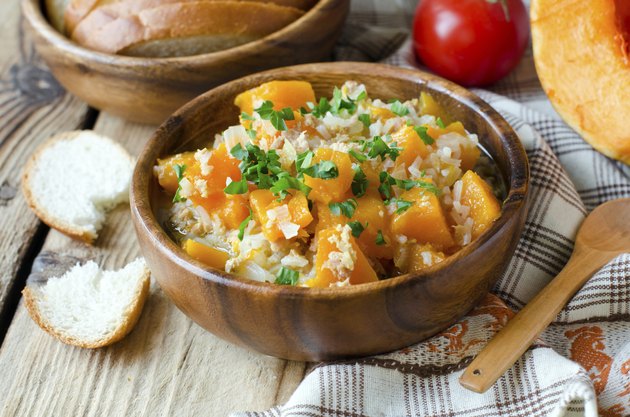 Easy to Digest Grains
When dealing with stomach discomfort, watch the amount of fiber you get in your diet. Including mostly refined grains, which are foods made with white flour, can help limit your fiber intake. Good grain choices for people with a sensitive stomach include white bread, tortillas, bagels, saltine crackers, pasta, white rice and low-fiber cereals such as cornflakes or puffed rice. Oatmeal and cream of wheat are also tolerated well.
Cook Your Veggies and Fruit
Fruits and vegetables are also a source of fiber, but cooking them softens the fiber and makes them easier to digest. Most cooked, canned and frozen vegetables are OK in your diet. Good choices include peas, potatoes, carrots, asparagus, beets and green beans. Fruits should be cooked without skin or seeds. Avocados, bananas, applesauce and canned fruits are also well-tolerated, as well as fruit and vegetable juices.
Keep Protein Lean
Getting too much fat in your diet may lead to indigestion, so keep protein choices lean. Healthy options include poultry, seafood, lean red meat cooked tender and eggs prepared without added fat. Nonmeat sources of protein for a sensitive stomach diet include tofu and smooth peanut butter.
Better Off With Low-Fat Dairy
Like meat choices, dairy foods, including milk, yogurt and cheese, should also be low in fat. If your sensitive stomach is due to lactose intolerance, which is when your body does not make enough of the enzyme lactase required to digest the milk sugar lactose, then you may need milk alternatives such as lactose-free milk, soy milk or rice milk. Milk is an important source of calcium and vitamin D, which you need for healthy bones, and is essential for good health.
Foods to Watch Out For
Certain foods may cause problems for people with a sensitive stomach. Limiting or avoiding these foods may decrease abdominal distress. These foods include highly seasoned and spicy foods; gas-forming foods such as broccoli, cabbage or Brussels sprouts; and fried foods. Keep a food diary to help you identify foods that cause problems.
Considerations
The diet to treat a sensitive stomach is low in fiber. Fiber is a nutrient that offers a number of health benefits, including bowel regularity and a healthy colon. A low-fiber diet is a short-term diet meant to treat an acute condition. Once your abdominal issue is resolved, you should resume your usual diet, as advised by your doctor.