Tortillas are a staple in Mexican cooking and over the last 10 years have become more common in American diets. Traditional Mexican tortillas are made of ground corn that have been soaked in lime-water; however, today tortillas are available in white or whole wheat flour along with the corn varieties. Tortillas are used for burritos, tacos and quesadillas, or as chips for dipping in salsa and guacamole. You can easily turn a soft corn or flour tortilla into a crispy shell, which can be consumed as a snack or topped with meat, cheese, beans or rice.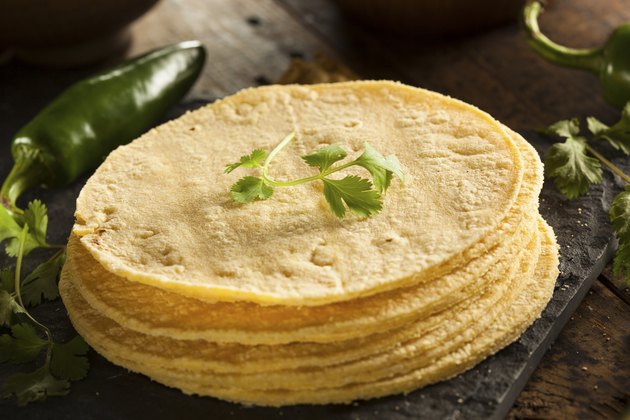 Step 1
Preheat your oven to 400 degrees F.
Step 2
Brush the tortillas with olive oil and lay the tortillas flat, in a single layer, on a baking sheet. The single layer allows the tortillas to cook evenly and consistently. If preferred you may sprinkle the tortillas with salt, or any other seasonings, such as pepper, garlic or onion.
Step 3
Bake the tortillas in the oven for five minutes or until they are crispy and golden brown in color. Keep an eye on them as they are baking to avoid burning any tortillas.
Step 4
Allow the tortillas to cool for a couple of minutes and then serve while they are warm.
Tip
Break the crispy tortillas up into bite size chips for dipping in salsa.