People generally wear perfume and use scented toiletries to impart a clean, fresh, sometimes sexy scent as they pass through a room. If you have perfume allergies, the lingering fragrance in the air or on your skin can cause a plethora of unpleasant symptoms. Consult your doctor if you show signs or symptoms of perfume allergies or fragrance sensitivities.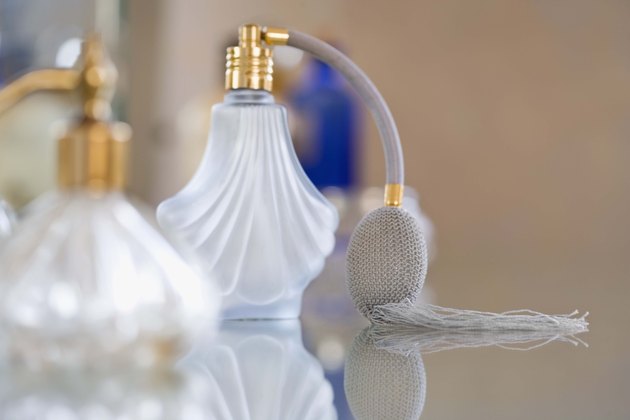 Contact Dermatitis
Contact dermatitis is a sign that your skin is irritated from a particular substance. Perfumes, as well as scented soaps, body care products and laundry detergent, can cause an adverse skin reaction in response to an allergy. The skin becomes red, itchy, painful, sometimes swollen and dry at the site of contact with the allergen. Topical corticosteroid creams such as hydrocortisone help reduce the inflammation. Speak to your doctor before treating allergic contact dermatitis at home to ensure your safety. Eliminate all contact with the perfume to avoid future reactions.
Respiratory Symptoms
Perfume allergies can affect your respiratory system even when you are not wearing the perfume yourself. The scent of a product on somebody else can trigger your immune system to release histamines if you have a fragrance sensitivity or allergy. Symptoms include a runny nose, sneezing, watery, itchy eyes and headache. Signs of perfume allergy can also include breathing difficulties such as wheezing. Taking an oral antihistamine, under the supervision of your doctor, may provide relief.
Allergy Testing
Allergy testing is a diagnostic tool that tells you if you have an allergy, intolerance or sensitivity to perfume or other fragrances and chemicals. Allergy testing is also used to determine allergies to food and pet dander. Perfume allergies are discovered through reactions to patch testing. An allergen, such as a perfume, scented lotion or other cosmetic, is placed on a patch which is applied to your skin. You most likely have an allergy to the perfume or chemical if you show signs of irritation in the target areas. Patch testing is carried out over a period of two days. If you show no reaction to the perfume within 48 hours, you probably don't have a true allergy.
Significance
As much as 30 percent of the American population finds perfume and other cosmetic scents physically irritating, according to studies published in the March 2009 issue of the "Journal of Environmental Health." This relatively high number of people who have possible allergic reactions to perfume is also likely to exhibit asthma symptoms and signs of other chemical sensitivities. Perfume allergies, depending on the extent and nature of your reaction, could be covered under the Americans with Disabilities Act. Ask your employer about accommodations you may need if you are allergic to your coworkers' perfume.