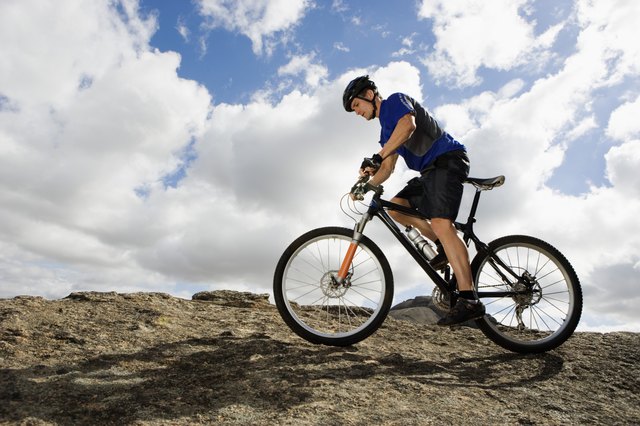 Cardiovascular exercise such as cycling and jogging is only one piece of an effective weight-loss plan. A combination of consistent cardiovascular exercise and revamped, healthy eating habits is the best path to cutting pounds. Cycling and jogging each offer an effective cardiovascular workout, burn calories, increase your aerobic capacity, decrease your resting heart rate and promote weight loss.
Exercise Recommendations
The American College of Sports Medicine and the American Heart Association recommend that healthy people under 65 perform moderately intense cardio for 30 minutes a day, five days a week, or vigorously intense cardio for 20 minutes a day, three days a week. These recommendations are to maintain health and prevent chronic disease; to lose weight or maintain weight loss, the organizations recommend 60 to 90 minutes per day, three to six days a week, depending on weight-loss goals.
Cycling
Cycling is considered a non-weight-bearing exercise and is appropriate for people unable to perform weight-bearing exercise due to a joint injury, arthritis or obesity. Non-weight-bearing exercises are effective choices for aerobic activity as they can increase the heart rate while avoiding placing weight on a particular part of the body — most often the legs and feet. From a weight-loss perspective, the goal of physical activity is to burn calories to foster weight loss. For a 150-pound person, stationary bicycling at a moderate pace burns 476 calories per hour. Outdoor cycling at a light pace, about 10 to 11.9 mph, burns 408 calories per hour; an increase to a moderate pace of 12 to 13.9 mph burns 544 calories per hour, CaloriesperHour.com calculates.
Jogging
Jogging is considered a weight-bearing exercise, done while standing on the legs and feet. The muscles and bones are worked against gravity by the impact of the weight. As the muscle pulls on the bone, the bone builds more cells; the increase in bone cells results in stronger bones and the reduction of fractures.
Jogging is an effective activity to burn calories for weight loss. For a 150-pound person, a light running pace of 5 mph burns 544 calories per hour; an increase to a vigorous pace of 10.9 mph burns 1,225 calories an hour.
Weight Loss
There are 3,500 calories in 1 pound of body fat; to lose that pound, you must create a calorie deficit by a reduction in calories ingested, an increase in calories expended through physical activity or a combination of the two. To lose 1 pound of fat in a week, you must create a deficit of 500 calories every day. The caloric expenditures of cycling and jogging ultimately depend on your pace. Leisurely jogging or stationary cycling burn about the same number of calories; an increase in intensity translates into more calories burned per session and more weight loss over time.