Jock itch is a fungal infection. It typically affects the skin in your child's thighs, genital area or buttocks. This condition causes a ring-shaped rash on the body. Anyone can get this infection, however, it is more common in boys than girls. Children who wear tight underwear or clothes, sweat heavily or have an impaired immune system are at higher risk of developing jock itch. Recognizing the symptoms and seeking treatment will make your child more comfortable and reduce risk for future infection.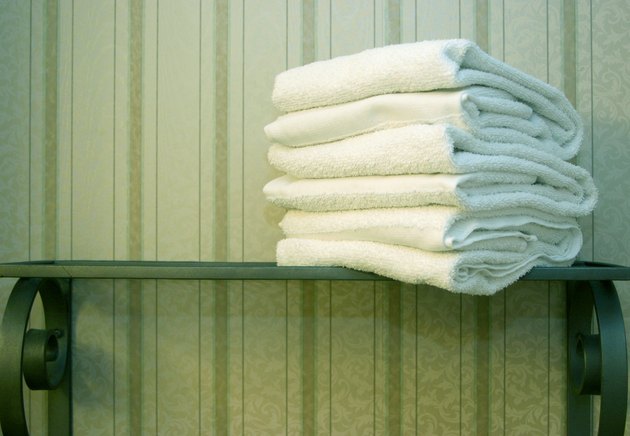 Symptoms
If your child has jock itch, he might notice itching, burning and redness in the groin area. Your child might also have itching or burning in the anal area and peeling or cracking skin. A child with jock itch might feel uncomfortable, particularly during physical activity as clothing rubs against the affected area, causing discomfort.
Over-the-Counter Treatments
Jock itch in children is usually treated with over-the-counter antifungal creams or sprays. Active ingredients include terbinafine, butenafine, clotrimazole, miconazole and ketoconazole. Have your child wash and dry the affected area with a towel. Once the area is dry, apply the antifungal medication as directed. Application is usually once or twice daily for 1 to 2 weeks, depending on the product used. Even if the jock itch symptoms get better, continue using the product for the full recommended course of treatment to prevent a recurrence.
Prescription Treatments
If your child's symptoms do not improve with over-the-counter treatments, contact his doctor. Your doctor may prescribe prescription-strength topical antifungal, such as econazole (Ecoza). Another option is oral antifungal medications, such as griseofulvin (Grifulvin). Take the medications as directed by your doctor. Like over-the-counter medications, do not discontinue use early.
Prevention
Jock itch thrives in moist warm environments. Encourage your child to change underclothing daily, or more frequently if he gets sweaty during sports or physical activity. Choose undergarments and athletic wear made from breathable fabrics. Remind your child not to share towels or other personal items with friends to prevent further possible exposure.