If you're eager to lose weight in a hurry, your first order of business is to pick one or more exercises with a high calorie burn. Running and bicycling aren't just simple exercises -- they're also virtually the fastest ways you can burn calories performing any activity. It's possible for either exercise to burn more calories than the other. The factors that influence your burn are the length of the workout and its tempo.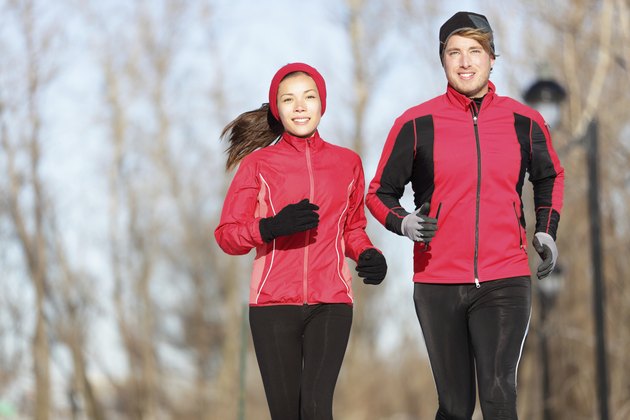 Running Off the Calories
Harvard Health Publications reports that if you're able to maintain a fast running pace, you won't find a realistic exercise that creates a faster calorie burn. The organization notes that a 155-pound person burns 614 calories in 30 minutes of running at 10 mph. This speed is difficult for most people to maintain over half an hour; if the same person drops her pace to 7.5 mph, she still burns 465 calories in 30 minutes.
Bicycling to a Better Body
According to Harvard Health Publications, the only exercise that burns calories as fast as running is bicycling -- provided you maintain a quick tempo. A 155-pound person who bicycles at a speed of 20 mph burns 614 calories in 30 minutes, which is the exact same rate of calorie burn as running at 10 mph. Lowering your bicycling pace to between 16 and 19 mph results in 446 calories burned.
Make Your Choice
You don't have to exclusively select either running or bicycling if you're eager to get in shape. Including both exercises in your workout keeps your fitness routine varied and helps you avoid boredom. If you feel inclined to choose one activity over the other, consider how long you can reasonably perform each activity. For example, if you can't run at a pace approaching 10 mph but are comfortable bicycling at 17 mph, the latter exercise is more suitable. Running requires less equipment than bicycling, but bicycling creates only a small impact on your joints.
Exercise for Physical and Emotional Health
Whether you choose running, bicycling or a combination of the two exercises to burn calories, each activity can play a significant role in the improvement of your health. Both exercises, according to the Better Health Channel, can strengthen your muscles and bones, help you build or maintain a physically fit body and improve your cardiovascular capacity. Aerobic exercises such as running and bicycling are also an ideal way to lessen your risk of some diseases and reduce your anxiety.