Running is surrounded by myths, including one that says it is bad for your joints. No matter where you run, indoors or outdoors, it is a high-impact, weight-bearing activity that causes wear and tear on your bones. Yet running may actually be good for your joints, whether it's inside or outside. Running outside definitely involves more impact, especially on pavement. But unless you have an existing joint issue, you don't always have to shy away from the road.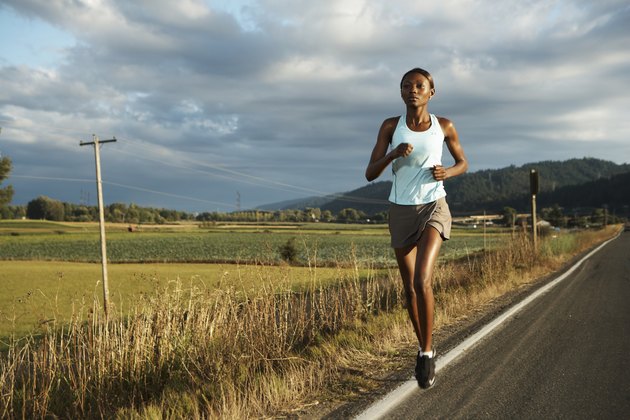 Benefits of Treadmills
Treadmills have a way of keeping your pace steady, guiding your gait and absorbing shock when your feet hit the belt. It's no wonder that when you get outside, running feels much harder. Treadmills are a go-to when it's too cold or wet outside or if your knees or joints can't take the impact the road supplies. Running on a treadmill instead of the road cuts your risk of stress fractures and other injuries up to 50 percent, according to 3FatChicks.com.
Outdoor Running
Running outdoors offers far more obstacles and variations than running on a treadmill. Overall, outdoor running has more impact and places more stress on your joints. Downhill slopes, pavement or gravel and unexpected twists, turns and bumps in the road can cause even more impact. A grassy surface, on the other hand, provides more shock absorption than any treadmill. But the surface is unstable and can lead to more chances for injury. While it is ideal for training for an outdoor race, outdoor running is not your best choice if you have joint issues.
Benefits of Running
While a lot of fear surrounds running as to its negative long-term effects, from knee injuries to osteoarthritis, "The Everything Running Book" argues the opposite. Movement, author Art Liberman says, stimulates bone growth and improves the flexibility of your joints. While there are more risks for injury, running is better for maintaining mobility than being sedentary is, whether you're on the road or on the treadmill.
Safety
Whether you are running inside or outside, wearing the proper shoes is the best way to prevent joint pain and injury. If you plan to run primarily on pavement, visit a specialty running store for recommendations on which shoe is best for your terrain and your gait. Another way to stay injury free is to have a gait analysis, in which an observer examines your stride and helps you make your running style more efficient. Overall, if you already have a joint issue, opt for running in the grass or hitting the treadmill instead.