Food allergies can cause swelling and itching of the face, lips, mouth, tongue and extremities, and may be accompanied by hives. Symptoms range from mild to severe, and represent a response by your body's immune system. If you have a severe food allergy, you may experience a condition called anaphylaxis if you unwittingly eat food containing the allergen. Symptoms of anaphylaxis include swelling of the tongue or throat, hoarseness and difficulty breathing. Since this type of swelling can rapidly escalate to a life-threatening situation, you should always carry a self-injection kit containing epinephrine to stop a reaction.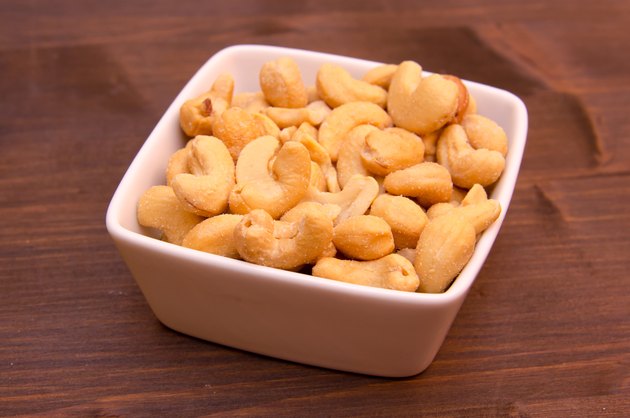 For Mild Swelling or Hives
Step 1
Change into loose, non-irritating clothing. Waistbands, itchy tags and tight clothing can make hives worse.
Step 2
Apply cool compresses to the affected area to reduce inflammation. Avoid hot baths or showers.
Step 3
Take an antihistamine. Follow the directions on the bottle's label to find the correct dosage. If a child is having an allergic reaction, ask a doctor or pharmacist whether a particular antihistamine is safe for children and what the correct dosage is.
Step 4
If swelling affects the mouth or throat, or if your symptoms begin to worsen, go to the nearest emergency room or call 911. A mild reaction can rapidly escalate into an anaphylactic episode.
For Severe Reactions
Step 1
Administer a dose of epinephrine using a self-injection kit. Open the cartridge your auto-injector comes in and take out the pen. Pull the pin out of the back of the epinephrine pen.
Step 2
Swing your arm rapidly down toward your outer thigh, hitting it with the tip of the injector. The plastic will retract and the needle will go into your thigh, delivering the medication. If you are wearing pants, it is OK to inject through the fabric.
Step 3
Call 911 and let the dispatcher know you are having an allergic reaction and that you administered epinephrine. If after 10 minutes your swelling has not gone down and you are having trouble breathing, use the second epinephrine pen in the package in the same way.
Step 4
Lie down while waiting for help to arrive. Give the paramedics the used injectors to dispose of properly.
Step 5
Call your allergist when you are out of the hospital so he can order you a new epinephrine self-injection kit. People subject to severe allergic reactions should carry an epinephrine kit with them at all times.
Things You'll Need
Washcloth

Epinephrine auto-injector

Antihistamine (optional)
Tips
Do not administer the auto-injector into your buttock or inner thigh. It must go into your outer thigh to avoid putting the medication into a vein and to be sure the medication works quickly.
If you have a severe food allergy, consider wearing a medical alert bracelet so others will know how to help you if you have a reaction and cannot get to your epinephrine.
Warning
If you experience oral swelling as an allergic reaction for the first time, call 911 immediately. Do not wait to see if your symptoms get worse because you could lose consciousness quickly.