Encountering a lump anywhere on your child's body can be frightening. Do not panic if you find a lump in your child's groin area. Arm yourself with the necessary information to address the concern before allowing worry to set in.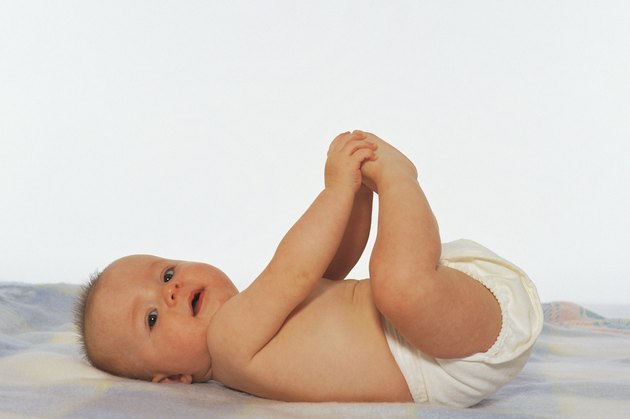 Cysts
A cyst is a broad term that refers to a lump in the body that develops somewhere it should not. Cysts are filled with fluid and can occur anywhere on your child's body. Often they are benign, or noncancerous. A cyst in your child's groin area may not actually be a cyst. The lump you are feeling could be one of many different things.
Hernia
The cyst you are feeling in your child's groin area could be a hernia. A hernia is when a weak area or even a tear in the muscle in your child's groin area allows an organ or other tissue to bulge out. A hernia can poke through a normal area that will eventually close up as your child grows or can be the result of injury or strain. You may notice the hernia as a small lump. An inguinal hernia is a hernia that can occur in the groin area of a child, and is seen more often in boys than girls. Often this type of hernia is a portion of your child's intestine protruding. Surgery will be required to repair an inguinal hernia.
Lymph Nodes
If you feel a lump in your child's groin area, it may not be a cyst at all. It could simply be a normal pediatric lymph node. If what you are feeling is a row of lumps, it is likely you have encountered lymph nodes in the groin area. A typical lymph node will feel soft to the touch and will move around underneath your child's skin when you touch it. These lumps will be about the size of a pea. However, if your child has an infection, such as a cold or virus, the size of the lymph nodes in the groin area or anywhere on the body may be larger.
Treatment
Regardless of how big or small the lump you have encountered is, your best bet is to have your doctor examine it. If the lump is hard and immovable or if touching it causes your child pain, it is a bit more urgent that your doctor see it. Most cysts are not cancerous or life-threatening; however, only a trained medical professional can determine exactly the cause of any lump.