A stylish hat can put the finishing touch on an outfit. However, some people find that they develop a band of red, blotchy skin on their forehead after wearing hats. Good news: You don't have to stop wearing your favorite fashionable chapeau. There are several possible explanations for this condition and over-the-counter products available to treat it at home.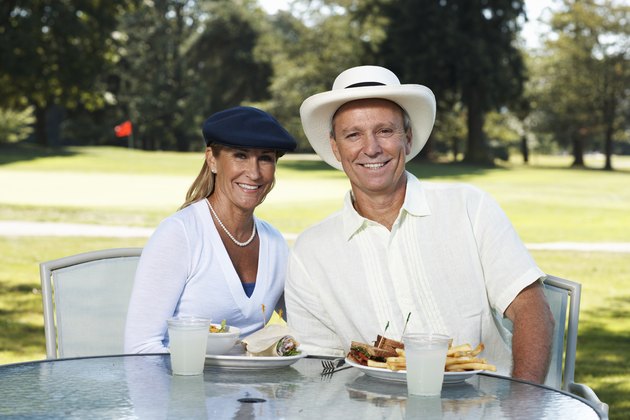 Miliaria
Miliaria, also called "sweat rash," is a type of rash that occurs when the skin's sweat ducts are obstructed. Sweat leaks into the skin, causing it to become inflamed. Anything that traps sweat and obstructs the sweat ducts can cause miliaria. For instance, it often occurs on the backs of individuals who lie in bed in hot climates for long periods. Similarly, the sweat ducts of the forehead can be obstructed by a hat. Miliaria appears as a red rash, often with small blister-like lesions.
Dermatitis
Red, irritated skin can also result from dermatitis. In the case of dermatitis resulting from wearing a hat, a likely culprit is contact dermatitis. Contact dermatitis occurs when the skin comes into contact with an irritant. In the case of cloth hats, scratchy wool cloth may cause dermatitis. Other possible causes include a reaction to chemical compounds such as laundry detergent. A small number of people may be allergic to substances found in hat bands, such as leather.
Treatment
Both miliaria and contact dermatitis are simple to treat. In the case of miliaria, calamine location and mild topical steroids can soothe the irritation and reduce the redness. Some cases of miliaria may have a bacterial component, in which case a doctor may recommend antibacterial medication. Dermatitis can often be treated with corticosteroids. Remedies that cool and soothe the affected area, such as cold compresses and moisturizing creams, can help reduce the discomfort dermatitis causes.
Preventing Irritation
The most important factor in avoiding further irritation is to limit exposure to the irritant. In the case of miliaria, this means preventing obstruction of the sweat ducts. If the obstruction is caused by a hat, the wearer should frequently remove it, try alternative positions or styles of hat, or go bareheaded. It may also be advisable to avoid hot, humid environments, if possible. In the case of contact dermatitis, changing hats may help the wearer find headgear that does not cause irritation.
Is This an Emergency?
If you are experiencing serious medical symptoms, seek emergency treatment immediately.