You might like spicy food, but sometimes one too many hot peppers can set your mouth burning uncontrollably. You might gulp ice water, which helps momentarily – only to have the fiery sensations return with equal vigor. Hot foods get their intensity from peppers containing a substance called capsaicin. Only certain things help neutralize capsaicin – and water is not one of them.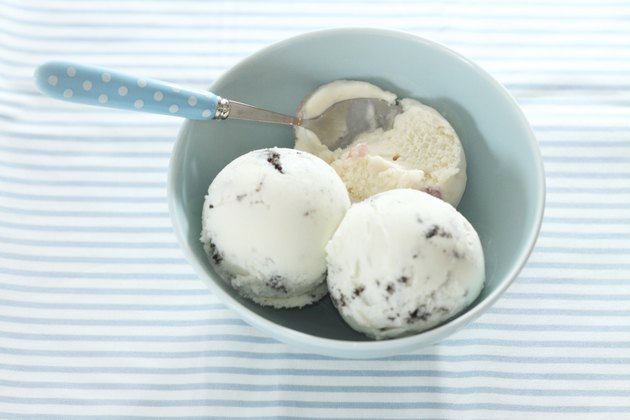 Capsaicin
Capsaicin is present in different levels depending on the chili pepper used to make the hot food. Habaneros and ghost chiles tend to be the hottest, while bell peppers are on the low range of heat. Your tolerance, however, is very individual. The seeds and white membrane of peppers contain the greatest concentration of the heat-inducing compound. The burning sensation you feel is doing you no physical harm, but it sure can feel intensely painful as it triggers a chemical response in your neurological system. Capsaicin is an alkaloid oil, which cannot be neutralized in water – which is why drinking a glass of ice water to try and drown out hot food is unsuccessful.
Dairy
Dairy products can tone down the feeling of heat in your mouth. A glass of milk is one antidote commonly used if you have had too much of a particularly spicy food. Cultures that utilize a lot of hot peppers in their food incorporate dairy into recipes to help round out the heat – think of the yogurt sauce raiti served with Indian curries or Mexican crema served with salsas. One of the proteins in dairy, called casein, helps break the bonds capsaicin forms on your nerve receptors – effectively washing the heat away.
Alcohol
Capsaicin can also be neutralized by alcohol, but a cold beer may not cut it. Drinking a cold beer will relieve you momentarily, but as the coldness dissipates – the burning returns. A study in the 1990 edition of the "Journal of Physiology and Behavior" found that drinks with five percent ethanol did not work any better than cool water at neutralizing peppers' heat. Straight up higher-proof liquors can tone down the heat, but make sure you serve them on the rocks. Heated drinks, like warm brandy, only increase the burn.
Sugar
Sugar is another hot food neutralizer, notes the "Journal of Physiology and Behavior" study. Honey and granulated sugar are both effective in modifying your pepper experience. How much sugar you need depends on how intense your pepper was – to squelch a scotch bonnet you need more than you would for a jalapeno. Combining sugar and dairy – in ice cream, flan or a pudding -- could be a very effective way to neutralize heat.
Other Antidotes
Acids such as lime juice, tomato juice and lemon juice can help relieve a burning sensation in the mouth. Most cultures incorporate these items in curries, jerks or salsas to help balance heat. Fatty food can also bind with the capsaicin and get it out of your mouth more quickly. You could try peanut butter or bread soaked in butter if you can't get your hands on milk or scotch.