Norco is a brand-name of a narcotic analgesic that combines the generic medications hydrocodone and acetaminophen. It is used for the relief of moderate to severe pain of all types. Norco comes in three strengths, all containing 325 milligrams (mg) acetaminophen with 5 mg, 7.5 mg or 10 mg of hydrocodone. Acetaminophen is a pain reliever and fever reducer that has few adverse effects, while hydrocodone is an opiate medication that causes most of the side effects of Norco.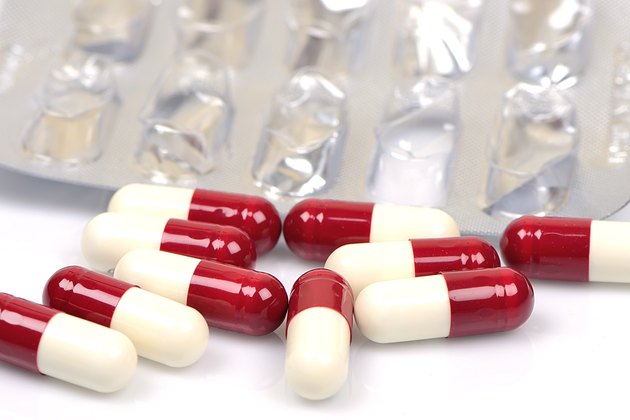 Common Side Effects
The Norco ingredient hydrocodone is chemically similar to morphine and codeine. The most common side effect of Norco and other opiate pain medications is nausea. Some may also have vomiting, loss of appetite and constipation. Mental changes such as drowsiness, dizziness, irritability and foggy thinking are also quite common with the use of Norco. Other patients may experience itching skin, dry mouth, ringing of the ears and constriction of the pupils of the eyes, possibly resulting in blurry vision. Some of these side effects may become less bothersome over time.
Serious Side Effects
When taken in large doses, the hydrocodone in Norco may cause depression of the respiratory system resulting in slowed or shallow breathing. Central nervous system effects such as seizures, extreme sedation and fainting may be experienced by some; and others may experience extreme mental changes such as confusion, hallucinations and fear. Hydrocodone may cause urinary retention in some people, particularly those with pre-existing urinary difficulties such as prostate enlargement. Any of these conditions may be a reason to seek immediate medical help. Long-term use or high doses of acetaminophen may cause liver damage, particularly when combined with alcohol or other medications that affect the liver.
Other Concerns
Opiate medications including hydrocodone and others such as codeine and morphine may cause severe allergic reactions, including swelling of the face, lips, tongue and mouth along with constriction of the respiratory system resulting in difficulty breathing. Other allergic reactions may include rash, itching and hives. An allergic reaction to hydrocodone should be promptly treated by a physician. Norco should not be taken by those with a known allergy to any opiate medication.
Norco should not be combined with other products containing acetaminophen due to the increased possibility of liver damage, or with other CNS depressants, such as antianxiety medication or alcohol, due to the increased chance of sedation. Before using Norco, other health conditions, including lung disorders—asthma and COPD, mental illness, liver or kidney disease and a history of alcohol or drug abuse—should be considered by the physician as they may be a contraindication to the use of Norco.