When on a strict diet, it can be hard to find meals that fit within your overall diet plan, without going over your set calorie goals. When trying to lose weight, breakfast should be one of the most important meals of the day. In fact, according to the Mayo Clinic, eating a healthy breakfast can both accelerate weight loss and help you keep the weight off. By staying away from high-calorie temptations, such as pastries or doughnuts, and sticking to 200-calorie healthy meal ideas, you can gain the energy you need for the day, without sacrificing your diet. These ideas can be mixed and matched to create the perfect calorie allotment to fit both your tastes and dietary needs.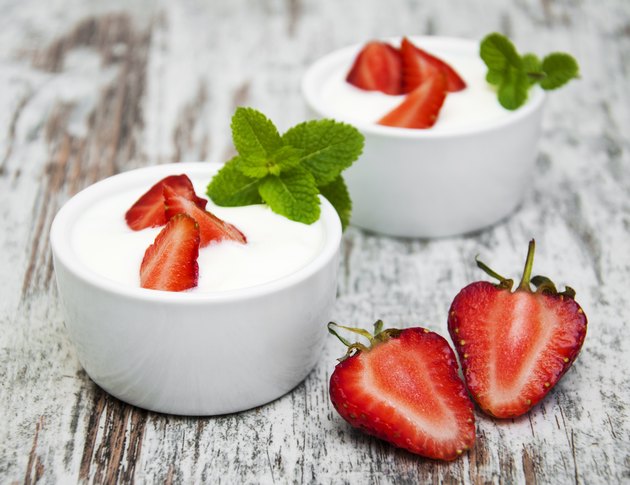 Egg White Omlet
Egg whites are the perfect breakfast food for those looking for low-calorie options, that still pack a nutritional punch. A serving of 1/4 cup of egg whites only contains 30 calories. On top of that, it provides as much as six grams of protein per serving. Combine in a frying pan a half a cup of egg whites with a quarter cup of sliced mushrooms (four calories), half a green bell pepper sliced into small pieces (16 calories), two tablespoons of diced onion (20 calories), and you have a healthy omelet for only 100 calories. Finish off the breakfast with a glass of skim milk (90 calories) and you have an easy 200-calorie meal.
English Muffin
A toasted whole wheat English muffin (130 calories) with half a tablespoon of low-calorie spread (such as I Can't Believe it's Not Butter with 25 calories) can give you a dose of healthy fiber to get your body going. Add four fresh sliced strawberries (22 calories) and you boost your levels of vitamin C and the antioxidant-rich phenols.
Instant Breakfast
When you're in a hurry, sometimes you just don't have time to cook or prepare a meal. When this is the case, an instant breakfast substitute, such as Carnation Instant Breakfast (130 calories), can give you the nutrition and calories you need to start your day, with very little preparation. Add in skim milk (80 calories) or light soy milk (70 calories) and you're right around your 200 calorie mark.
Fruit and Yogurt
Fruit and yogurt is another healthy option for a 200-calorie meal. Stick to light yogurt varieties, such as Yoplait Light (100 calories) and add in a hefty serving of fresh fruit such as strawberries (1 cup = 70 calories), blueberries (1 cup = 84 calories), or raspberries (1 cup = 70 calories) for both a fiber and vitamin boost. You can also add in two or three tablespoons of low-fat granola (about 100 calories, depending on the brand).
Oatmeal and Fruit
Oatmeal is another fast option for getting 200 calories in the morning. A half of a cup of dry oatmeal prepared with water provides about 150 calories, depending on the brand. Add in your favorite sliced fresh fruit, or two tablespoons sliced almonds (50 calories) to complete the meal. If you like brown sugar in your oatmeal, feel free, but limit it to two teaspoons (32 calories).