Genital herpes and ingrown hairs are both common conditions, which are sometimes confused with each other. According to the Centers for Disease Control and Prevention, about 1 in 6 Americans between 14 and 49 years of age has genital herpes. Almost 90 percent of these people don't know they have it because they have no or minimal symptoms.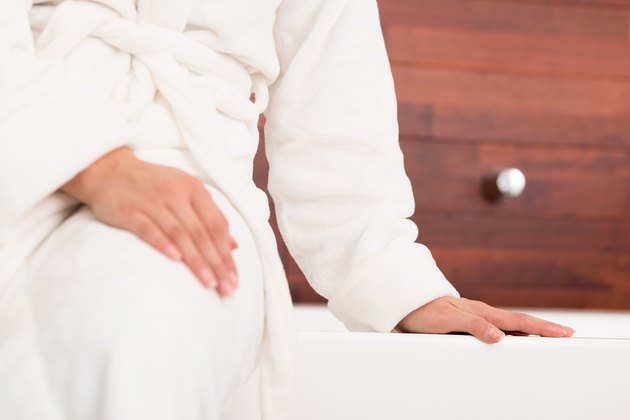 Ingrown hairs are even more common, although there are no good statistics about how frequently they occur. Ingrown hairs pose far less of a concern than genital herpes, which spreads from person to person during sexual contact. There are many differences between genital herpes and ingrown hairs.
Causes
An ingrown hair occurs when the hair grows out a little, then curls around and grows back into the skin, producing inflammation. Ingrown hairs usually result from frequent and close shaving or wearing tight clothing that chafes against the skin. They tend to be more common in people with coarse or curly hair, according to the United Kingdom National Health Service.
Genital herpes is usually caused by herpes simplex virus type 2 (HSV-2). This virus is typically spread from 1 person to another through genital-to-genital contact. Herpes simplex virus type 1 (HSV-1) may also cause genital herpes. It is spread when a person with HSV-1 of the mouth — oral herpes, also known as cold sores or fever blisters — performs oral sex on an uninfected partner.
Symptoms
An ingrown hair typically appears as a single small red bump that looks like a pimple. A hair is often visible in the bump. Ingrown hairs can be mildly painful and itchy. A small amount of yellowish pus may be present.
Genital herpes typically occurs as a small cluster of sores that begin as tiny red bumps and then develop into blisters. The blisters eventually break open, oozing a small amount of fluid and leaving open sores. These sores usually crust over before eventually healing.
Herpes sores tend to be painful, especially at the open stage. Flu-like symptoms, such as a fever, body aches or tiredness, may accompany the sores during the first episode of genital herpes. Prodromal symptoms — such as tingling or burning in the area where the sores will develop — may occur hours to a few days before the sores appear. They can be present with both initial and subsequent outbreaks.
Diagnosis
Often your doctor can tell the difference between an ingrown hair and genital herpes by carefully inspecting the area. But sometimes herpes sores do not have their typical appearance.
They are most likely to be confused with other conditions when they fail to develop into blisters and remain as simply red bumps. In these instances, your doctor may take a swab of the area to send to the lab for analysis. Special tests performed in the lab can tell whether you have genital herpes and whether it is caused by HSV-1 or HSV-2.
Treatment
Ingrown hairs usually resolve on their own within a week. Warm compresses may be soothing. Don't try to remove the hair yourself, as this can lead to infection and scarring. If you have multiple ingrown hairs and inflammation is severe, your doctor may recommend a corticosteroid cream.
Occasionally, a bacterial infection will set in, requiring antibiotics. See your doctor if your ingrown hair appears to be getting worse, has a lot of pus or is becoming very red and painful.
To be effective, they should be started when prodromal symptoms develop or within the first day after the sore appears. As there is no cure for genital herpes, the sores can return in the future. Oral antiviral medications are sometimes taken on a daily basis to help decrease the frequency of future episodes and reduce the chances of spreading the virus.
Prevention
The best ways to avoid ingrown hairs are to not shave and not wear tight clothing. Shaving in the direction of hair growth, refraining from shaving the same area over and over and putting moisturizer on the skin before shaving may also be helpful.
One of the best ways to avoid genital herpes is to refrain from having sex with a person who is having a herpes outbreak. People are most likely to spread the virus to another person at this stage.
But sometimes the virus is transferred when there are no symptoms. People with genital herpes shed the virus from their skin about 18 days each year between outbreaks, according to the New Zealand Herpes Association. HSV-1 can also be shed from the skin or saliva between cold sore outbreaks.
Following safe sex practices, including using a latex condom, can reduce the chances of transmission between outbreaks.
Reviewed and revised by Mary D. Daley, M.D.
Is This an Emergency?
If you are experiencing serious medical symptoms, seek emergency treatment immediately.