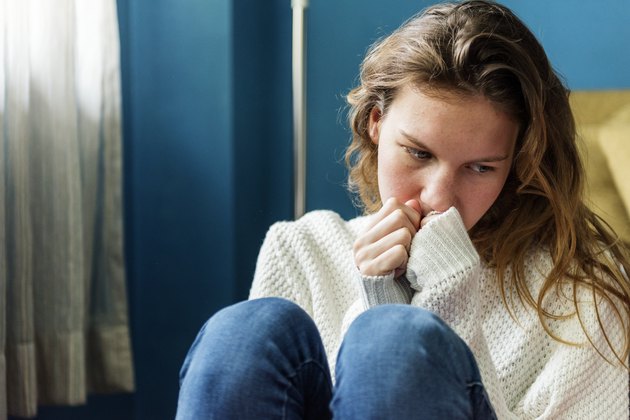 Flu-Like Symptoms
In the first days to weeks after being infected with HIV, most people experience mild flu-like symptoms known medically as acute HIV or acute retroviral syndrome. Fever, headache, and a general feeling of being unwell topped the list as the most common early HIV symptoms in the 2016 New England Journal of Medicine study.
Other frequent symptoms include muscle and/or joint pains, night sweats, fatigue, and swollen glands. Less common symptoms include a sore throat, mouth ulcers, reduced appetite, nausea, vomiting, diarrhea and weight loss.
Because other conditions — like influenza, mononucleosis, strep throat, the so-called stomach flu and even the common cold — can cause similar symptoms, early HIV symptoms are often overlooked. The fact that these symptoms go away on their own relatively quickly also contributes to them being ignored or misattributed.
Rash
Unlike many of the other conditions that can lead to flu-like symptoms, early HIV infection often causes a rash. A review article published in January 2011 in the Journal of the International AIDS Society explains that rashes are common in both the early and late stages of HIV infection.
Because the skin is the body's largest organ and populated by an array of immune system cells, it proves particularly vulnerable to the effects of HIV. Rashes due to early HIV infection tend to be red and itchy, and most commonly appear on the torso, neck and/or face. In some people, the rash is more widespread and involves the arms and/or legs. The rash gradually disappears on its own within a few days to weeks.
Nervous System Symptoms
Foggy thinking

Difficulty concentrating
Forgetfulness
Difficulty with fine hand movements, like writing
Sensitivity to light
Rarely, more severe symptoms develop several weeks after the flu-like symptoms of acute HIV go away. This could signal inflammation of the brain (encephalitis) or the tissues the cover the brain and spinal cord (meningitis).
Vaginal Sores
Uncommonly, vaginal sores or ulcers develop in women with early HIV infection. According to CDC, 87 percent of women contract HIV during unprotected sexual encounters with men. Previous or simultaneous exposure to other sexually transmitted diseases — like genital herpes, gonorrhea or chlamydia — increases the risk of contracting HIV and might increase the odds of a genital ulcer forming during early HIV infection.
When to See a Doctor
If you have risk factors for HIV — including a history of unprotected sex or injection drug use — be sure to get tested for HIV. Keep in mind that early HIV symptoms are usually mild and frequently missed or attributed to another illness.
Early HIV diagnosis and treatment will help protect you from HIV-related complications and prevent spread of the virus to loved ones.
Reviewed and revised by: Tina M. St. John, M.D.
Is This an Emergency?
If you are experiencing serious medical symptoms, seek emergency treatment immediately.