Azithromycin is a prescription-only antibiotic sold in generic form and under the brand name Zithromax. It is one of the antibiotics used for treating moderate to severe cases of acne, including inflammatory acne. Physicians typically prescribe Zithromax or other antibiotics when topical therapy has not worked very well, or for beginning treatment of severe acne.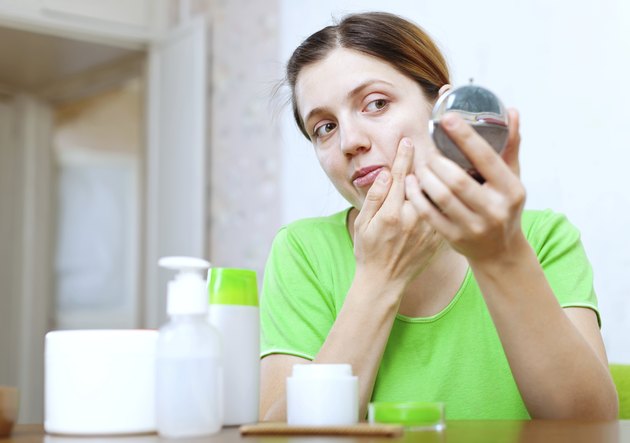 The Problem
Acne is a very common skin disorder among teens and young adults. It usually results from overactive sebaceous glands producing excessive oil, which prevents dead skin cells from shedding. These cells clog pores, creating a favorable environment for the anaerobic bacteria that cause acne. Early and effective treatment helps minimize psychological stress and embarrassment caused by acne, as well as the risk of scarring.
Treatment Options
Patients have several options for taking Zithromax for acne treatment. Packages of six are commonly called a Z-Pak, and include a first day's dose of 500 mg, and four 250 mg dosages for the next four days. Patients take one Z-Pak each month, or a treatment starting on the 1st and another on the 15th. Other approaches involve taking 200 mg or 500 mg of the medication three times a week for 8 to 10 weeks, or taking Zithromax three days on and seven days off for three cycles.
Efficacy
Azithromycin was effective within eight weeks for 88.5 percent of participants in a study published in a 2008 issue of "Dermatology Online." No difference in effectiveness was found when comparing azithromycin with the commonly-prescribed doxycycline for acne treatment in a study published in the May 2005 issue of "Clinical and Experimental Dermatology." Patients should not take antacids containing magnesium or aluminum within two hours of taking Zithromax, because these substances reduce absorption and can decrease effectiveness.
Zithromax Advantages
Azithromycin causes significantly less gastrointestinal effects than other antibiotics, as noted by a study published in the May 1, 2000 issue of "Family Practice News," so patients are less likely to discontinue the medication. In a review of pre-approval studies conducted by EMedTV.com, 1 to 7 percent of participants experienced abdominal pain, diarrhea, nausea or vomiting. Another advantage of Zithromax is it does not cause extra sensitivity to ultraviolet light, unlike other antibiotics used to treat acne.
Warning
Zithromax, like many other antibiotics, can lead to a severe condition called pseudomembranous colitis, resulting in severe diarrhea. This calls for immediate medical attention. Taking Zithromax may increase the risk of developing oral and vaginal yeast infections. Zithromax may aggravate symptoms of myasthenia gravis, and some patients have reported the onset of myasthenia gravis while taking azithromycin.