Benadryl, also known as diphenhydramine, is an antihistamine used to relieve symptoms of allergies and the common cold. The medication works by blocking histamine that the body makes during an allergic reaction. Other uses for Benadryl include the treatment of nausea and motion sickness, and as a sleep aid for adults. Benadryl doses for children under the age of 12 are based on the child's weight, and should not be administered to children under the age of two without contacting the child's pediatrician. Check with the doctor if the child has any underlying health problems such as asthma or bronchitis, as Benadryl may not be advised for use.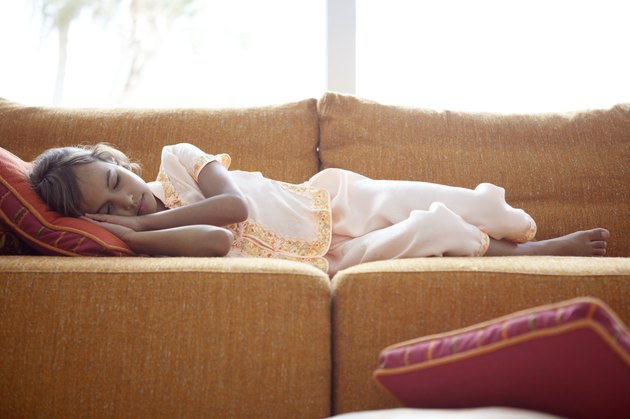 Drowsiness
Drowsiness is one of the most common side effects of Benadryl. Onset of drowsiness usually occurs 20 to 30 minutes after it's ingested. Check with a doctor or pharmacist before administering Benadryl to a child who is on any other medications that may cause drowsiness, as it may intensify the effects. These include seizure medications, cold and allergy medicine, medication for depression or anxiety, beta-blockers, and narcotics such as codeine, oxycodone, hydrocodone and morphine.
Dizziness
Dizziness is the false sensation of the body moving or spinning. Some children describe it as feeling light-headed, while others say it feels like the room is spinning. Dizziness can be dangerous if the person is riding a bicycle, swimming or driving a car, scooter or motorcycle. Extra care should be taken when administering Benadryl to a child that has a balance disorder by ensuring an adult is present at all times.
Dry Nose, Mouth and Throat
Histamines in the body produce secretions and cause inflammation which can result in a stuffy, runny nose and productive cough. Since the action of an antihistamine is to decrease the amount of histamine release in the body, the result is a decrease of respiratory secretions, leading to a feeling of dryness in the nose, mouth and throat.
Excitiation, Agitation or Nervousness
In some children, Benadryl has the opposite effect of sedation, causing excitation, nervousness or agitation. Although the exact reason for this is unclear, a study published in the February 1, 2008 journal CNS Spectrums suggests that some people have increased activity of a gene called CYP2D6. The authors, J. deLeon and D.M. Nickoloff, state that "...diphenhydramine may be converted to a compound that causes excitation due to the abnormally high CYP2D6 activity. Therefore, such individuals may be at higher risk for excitation." This increase in metabolism may be present in 1 to 2 percent of the population.
Low Blood Pressure
Benadryl acts as a vasodilator, meaning it opens up the blood vessels throughout the body. When the blood vessels open, it takes more blood volume to fill the vessels and get the blood where it needs to go--such as the brain, kidneys and heart. Think about it like a garden hose; it takes more water pressure to get the water through a large hose than a small hose. If the same amount of water pressure is used in both hoses, the pressure will be low in the large hose. The same effect occurs in the body. Therefore, when blood vessels open (get bigger) and blood volume doesn't increase, low blood pressure occurs.