Although bald men and women are more prone to sun damage on the scalp, a full head of hair will not necessarily protect you, according to the Baylor College of Medicine. If the scalp is unprotected and exposed to harmful UV rays, medical conditions like sunburn and skin cancer can occur. Symptoms like hair loss and pain emanating from the scalp should be discussed with your physician, especially if these symptoms occur after bad sunburn.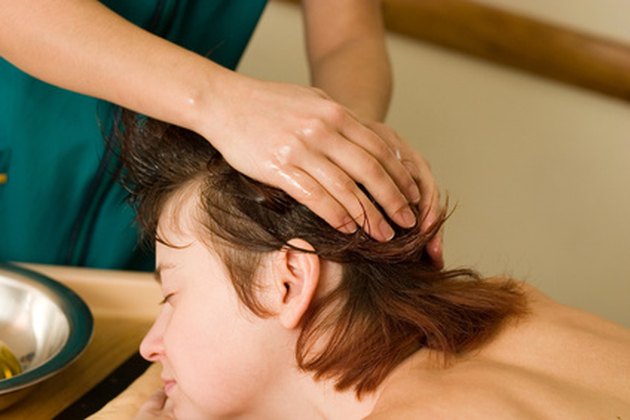 Step 1
Apply sunblock to the scalp each time you expose the hair to UV rays. Choose a sunscreen with SPF 30 or higher. There are brands specially formulated for the hair and scalp, like Banana Boat Quick Dry Sport, Body and Scalp Sunblock Spray. The sprays are non-greasy and will protect your scalp from any further sun damage.
Step 2
Minimize sun exposure with hats. Along with sunscreen, hats can protect the scalp and hair from damage.
Step 3
Cool a sunburned scalp with a lukewarm shower. Use a specially formulated after sun shampoo and conditioner. These products are mild and can moisturize the scalp and hair.
Step 4
Remove peeling with a vinegar rinse. If your scalp starts to peel as the sunburn heals, remove residue by rinsing in the shower with white vinegar. Dandruff shampoos can be used to minimize peeling from the scalp as well.
Step 5
Ask your hairdresser to perform a spot check on your scalp. If you go to the same hairdresser regularly, she may notice if you have any new spots or moles that were not there previously. Contact your doctor to examine any spots and growths found on the scalp.
Warning
Don't use any products that may irritate the scalp as it heals from sun damage. Alcohol based hair care products should be avoided, along with heat-based styling tools, like flat irons, hair dryers, and hot rollers.
Is This an Emergency?
If you are experiencing serious medical symptoms, seek emergency treatment immediately.