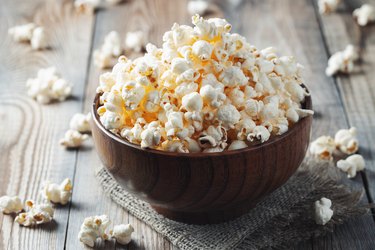 When it comes to healthy snacks, plain popcorn is at the top of most nutritionists' recommendation lists.
Air-popped and eaten plain, popcorn is low in calories and fat and high in fiber and beneficial antioxidants, especially when compared to other common snack foods like potato chips or pretzels.
Popcorn is a whole-grain food that can be eaten as part of a healthy diet. Unsalted, fat-free, air-popped popcorn is an economical and healthy snack that only becomes unhealthy when we add oil or butter, says Heli Roy, PhD, registered dietitian and associate professor in the Nutrition and Health Department at Louisiana State University. Instead, Dr. Roy suggests flavoring popcorn with reduced-fat grated cheese or onion or garlic powder.
Nutrition and Calories in Air-Popped Popcorn
Calories: 31
Total fat: 0.3 g
Cholesterol: 0 mg
Sodium: 0.3 mg
Total carbs: 6.2 g

Dietary fiber: 1.2 g
Sugar: 0 g

Protein: 1 g
Although popcorn does not contribute significant amounts of any nutrients, it supplies trace amounts of the B vitamins thiamin, niacin, B6 and B2, and the minerals magnesium, manganese, phosphorus, zinc, copper and iron.
Tip
The nutritional value of different types of popcorn products can vary greatly depending on the type of ingredients that are added. If you buy microwavable, stove-top or packaged popcorn, check the nutrition facts label to see how many calories, grams of fat and milligrams of salt the product contains. For the healthiest popcorn, compare brands and varieties and choose those with the lowest calories and least fat and salt.
Yellow vs. White Popcorn Nutrition
White popcorn, aka rice popcorn, is made from small kernels that look a bit like rice grains, according to Bob's Red Mill. Popped white popcorn is soft and crunchy. On the other hand, yellow popcorn is made from medium or large kernels and takes on a durable, fluffy texture.
Check out popcorn nutrition below for 1 ounce popped.
Yellow and White Popcorn Nutrition
Kettle Corn Popcorn Nutrition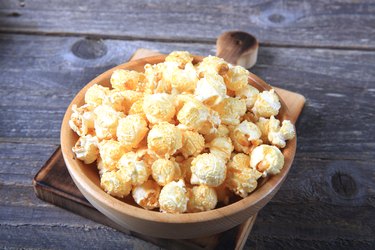 First of all, what is kettle corn? Kettle corn popcorn is traditionally made in an iron kettle and is seasoned with salt and sugar to give it that signature sweet-and-salty flavor. Kettle corn contains more sugar than regular popcorn.
Calories: 74
Total fat: 4.2 g
Cholesterol: 0 mg
Sodium: 69.4 mg
Total carbs: 8.6 g

Dietary fiber: 0.9 g
Sugar: 4 g

Protein: 0.8 g