Did Taylor or didn't she? That is the question. ICYMI: Taylor Swift and Kanye West have been lobbing accusations at each other over social media regarding Swift's knowledge and approval of controversial lyrics in West's song "Famous."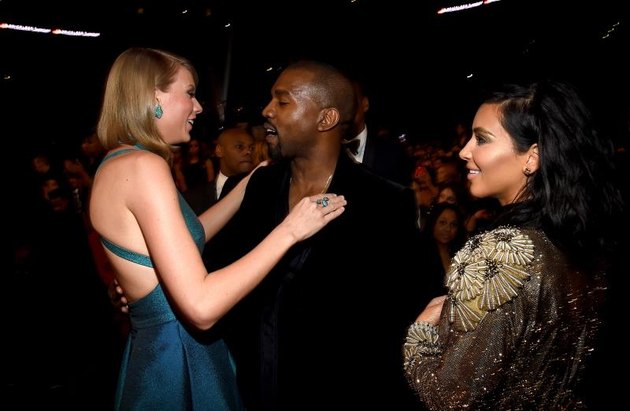 Now West's wife Kim Kardashian has exacerbated the situation with a Snapchat video. In the video, posted on the night of Sunday, July 17, Swift appears to approve some version of the lyrics West reads to her over the phone. However, the singer argues that it was not specifically the "bitch" part of the lyric: "I feel like me and Taylor might still have sex / Why? I made that bitch famous."
The exchange set off a firestorm of finger-pointing and an ugly back-and-forth between supporters of each camp. In particular/for example, Kardashian's sister Khloe had a Twitter episode -- a "Twitter-sode"? "Tweet-spasm"? -- over posts by Swift-camp supporter Chloe Grace Moretz, who had urged calm.
Yawn. Raise your hands in the air if you don't care.
But is there anything to be learned from this celebrity kerfuffle? We gave it a shot and came up with a few life lessons that may be helpful when you find yourself in a public spat:
1. Keep your cool in the heat of the moment.
When a frenemy disrespects you publicly, your first instinct may be to lash out in a social media rage -- or IRL -- but that's not when you're going to make the best decisions. It's best to sleep on the conflict and solicit advice from cooler heads before responding.
That advice should come from emotionally mature people you respect, not necessarily your hot-headed BFF or sibling whose tight bond with you may cause their response to be as dangerously volcanic as your own.
Kardashian and West may well find out the consequences of rash behavior, as TMZ has learned that Swift's lawyers have threatened them with criminal charges for secretly recording their phone call with her, which is a felony in California.
2. Remove energy vampires in your life.
You might think that Swift and the Kardashian-West contingent simply would have had enough of sniping at each other by now. Time will tell if their fans have.
Experts advise that when you find yourself dealing with people who are a continuous drain on your emotional well-being, you should probably look to exit the relationship permanently. You can ease out of a damaging friendship by limiting your exposure to start.
"Give yourself permission to power down and ignore calls, especially when you are exhausted or being pulled in multiple directions," clinical psychologist Dr. Ramani Durvasula, author of "Should I Stay or Should I Go: Surviving a Narcissistic Relationship," told LIVESTRONG.COM.
"The power of caller ID is notable here: Don't feel like you have to answer the phone every time or even answer an email immediately. Give yourself time to breathe before you tackle it -- and prepare yourself, much like stretching before a workout."
3. Beware: Your negativity can bring down your whole posse.
Emotional contagion is a very real thing and you can catch a bad attitude by being in close proximity to negative people -- even through social media!
"Being 'infected' by another person's happiness or enthusiasm can be a very good thing," writes Sherrie Bourg Carter, Psy.D. and author of High Octane Women: How Superachievers Can Avoid Burnout," on PsychologyToday.com.
"Researchers have found that when subjects 'catch' positive emotions from others, they're more likely to be viewed by others and view themselves as more cooperative and competent. They also perceive themselves as more collegial... Simply put, when you hang out with happy people, you tend to feel happier, have more energy, and feel less stressed."
On the flip side, when you hang out with grousers, you tend to bitch and moan yourself. In fact, one bad egg can bring your whole support network down, causing second-hand depression or anger in individual members. If you're part of an afflicted group, back away slowly.
Celebrities engaging in a little he said/she said may be entertaining, but those people have money to fend off libel and slander lawsuits. How about you?
Your mouth can get you into a whole mess of trouble if you're not careful, and bad behavior can cost you time, money and your own reputation. Not to mention the base ugliness of lying about someone to inflict harm on them.
Have you checked your soul's mileage lately? Got any points left?
5. Role models have a responsibility.
Let's concede upfront that celebrities have a lot on their plates, whether like Swift and West they are artists creating entertainment for the masses or like Kardashian they [insert purpose here]. Pile on top of that the pitfalls of fame -- not being able to go for a burger without someone taking a picture and publicly critiquing whether or not you should be eating said burger -- and add to it the same family and friend drama that can burden any of us.
You'd think the gobs of money celebrities like these make would be some consolation, but it's easy to think so without having the experience of managing the influx and expenditure of funds at that level. Or, you know, managing the person who manages the influx…
In any case, being in the public eye can't be a picnic. Some people (Hugh Jackman comes to mind for some reason) seem to do it with effortless grace and ease. Others (this lot) are a bit messier, dragging each other into their respective worlds of degenerate behavior, narcissistic posturing and icky mudslinging.
Think of the kids! Seriously, think of them. Swift has an army of underage fans and followers, and West and Kardashian have little ones of her own. The lesson here: Don't be a dirtbag, even temporarily to quickly settle a score.
When faced with bullying, before you act, ask yourself, What would Hugh Jackman do?
What Would YOU Do?
How do you deal with a public spat? Do you raise hell or walk away? Do you care that Taylor Swift and Kanye West are at it again?