When "The Oprah Winfrey Show" aired its final episode on May 25, 2011, a little piece of us collectively died. But following a recent interview on Bloomberg, we now have the faintest glimmer of hope for an "Oprah" revival — but not in the form you might think. Instead of a new show, Oprah Winfrey just might be considering running for the Oval Office — #Oprah2020!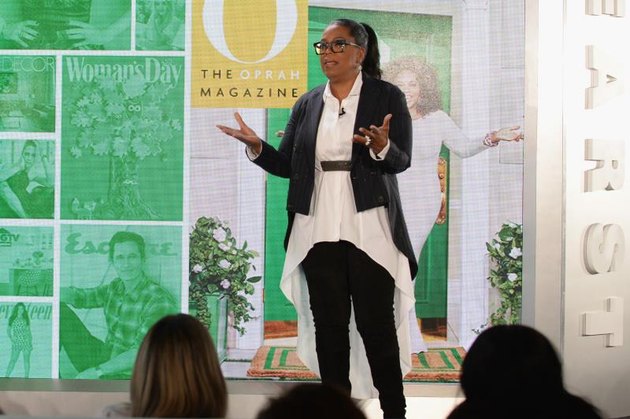 During an appearance on the David Rubenstein show, Oprah was asked by the host if she thinks she could be the one to "break the glass ceiling" when it comes to the U.S. finally having a female president, given her popularity.
"I never considered the question even a possibility. I just thought, 'Oh.' I thought, 'Oh, gee, I don't have the experience. I don't know enough.' And now I'm thinking, 'Oh.'"
While that's definitely not an official announcement by any means, it has definitely planted the seed of a dream. A dream where Oprah is president, Stedman is the first partner and the entire nation gets to look under their chairs to find "Oprah's favorite things."
Joking aside, what would an Oprah presidency possibly mean for our daily lives? Considering her love and support for people like Dr. Oz and Dr. Phil, it's probably safe to say that President Winfrey would make mental and physical health and well-being a top priority.
One of Oprah's most recent focuses has been on healthy eating in an attainable way for a happy, balanced life. Maintaining a healthy weight is something she has admittedly struggled with her whole life, so she's also speaking from experience. Taking that focus in a position like the presidency could be exactly what America needs, considering our rampant problem with obesity and obesity-related health issues.
But the best part about a Winfrey presidency is that Oprah gets that the struggle is real. The huge-hearted media maven has shed numerous tears with her on-screen guests — both happy and sad — because she gets it. And if understanding what people want and need, not to mention what they're going through, doesn't make for presidential material, then what does?
One thing's for sure: If a Hillary vs. Trump presidential run was one for the books, an Oprah vs. Trump 2020 run might be the only thing that could upstage it.
What Do YOU Think?
Would you vote for Oprah? Do you think Oprah will actually run for president? Who do you wish would run for president? Let us know in the comments.