An upset stomach affects everyone from time to time, often throwing a wrench into your daily activities. This common condition manifests with varying symptoms that occur for a variety of reasons. Symptoms of an upset stomach frequently include nausea, vomiting, queasiness, bloating, excess gas, heartburn, abdominal pain and diarrhea. Common culprits include eating too much or too fast, stress, constipation, acid reflux, food intolerance and indigestion. Simple, natural measures can help calm an occasional upset stomach, which usually resolves quickly.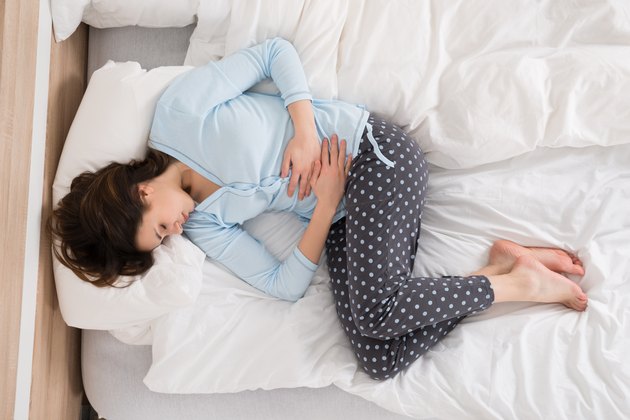 Staying Upright Is Usually Best
When suffering with an upset stomach, you might feel like lying down. But remaining upright often proves to be a much better strategy. Resting in a recliner or comfortable chair or with your upper body propped up on pillows in your bed can help calm heartburn and nausea. Staying upright for 2 to 3 hours after a meal typically gives your stomach sufficient time to empty. An upright position also makes it easier to expel excess gas from your stomach through belching. If you're feeling up to it, going for a walk can help relieve heartburn and stomachaches caused by constipation by stimulating movement of food through your digestive tract.
A Break From Eating Often Helps
Eating too much or too quickly often triggers an upset stomach, potentially causing symptoms such as a painfully full stomach, heartburn or indigestion. Abstaining from food and drink for a few hours can help alleviate these symptoms by giving your stomach a chance to empty. Continuing to consume liquid or solid food may cause further pain or provoke vomiting.
Avoiding food and drink for 2 to 3 hours if you're experiencing nausea or vomiting gives your stomach a chance to calm down. After this period, you can try a few teaspoons of water or another clear liquid, such as broth or flat ginger ale, every 15 or 20 minutes. If you're able to tolerate clear liquids, you can gradually increase the amount and frequency. But if you vomit or get nauseated again, give your stomach another couple of hours of rest before trying another time.
Food Choices Can Help or Aggravate Symptoms
What you eat and how you consume it can potentially make an upset stomach better or worse. Carbonated beverages and drinking through a straw can aggravate excess gas, bloating, heartburn and indigestion. Spicy foods, dairy and caffeine can also aggravate some symptoms of an upset stomach, such as heartburn, cramping abdominal pain, bloating, excess gas and diarrhea. Avoiding or limiting beans and gas-producing vegetables -- such as cabbage, cauliflower and onions -- can be helpful if excess gas and bloating are your main symptoms. Stomach upset caused by constipation can often be relieved by dietary changes, including increased intake of fluids, fruits, vegetables and whole grains. However, it typically takes a few days for dietary changes to take effect with constipation.
For occasional nausea or stomach upset, some people find the BRAT diet helpful. BRAT stands for bananas, rice, applesauce and toast, but this eating plan is essentially a bland diet that includes easily-digested foods. Following a bland diet for a day or two gives your digestive system a rest while still providing fluids and some calories. You can begin eating a normal diet as soon as you feel up to it.
Calming Your Mind Might Help
Stress and anxiety can provoke or contribute to symptoms of stomach upset. Although the exact mechanisms by which mental distress leads to digestive system symptoms remain unclear, researchers believe it is related to the complex communication system between the brain and gastrointestinal organs. Stress or anxiety can also lead to unhealthy eating behaviors that might contribute to stomach upset, such as eating high-fat foods, overeating or drinking too much alcohol. Short-term ways to help calm an upset stomach related to stress or anxiety include taking deep breaths, taking time to rest and finding a way to relax -- such as meditation, yoga or exercise.
Ginger Might Help With Nausea and Vomiting
Ginger is a longstanding remedy for stomach upset associated with nausea and vomiting. Research examining ginger's effectiveness for nausea and vomiting has primarily focused on people receiving chemotherapy and pregnant women, and some of the results have been contradictory. Nonetheless, a March 2016 review article published in "Integrative Medicine Insights" suggests that ginger is an effective treatment for nausea and vomiting. The National Center for Complementary and Integrative Health notes that ginger may be effective for pregnancy- and chemotherapy-related nausea and vomiting, but additional research is needed to confirm the effectiveness of ginger when these symptoms are due to other conditions or circumstances.
Ginger is generally regarded as safe when consumed as a spice, but there have been reports of mild side effects, including excess gas, heartburn and diarrhea. Ginger may be consumed in the form of tea or ale or added to dishes in dry spice or raw root form.
Warnings and Precautions
Most stomach upset goes away on its own within a few hours to a day or two and does not pose a serious health threat. However, some potentially serious conditions can begin with an upset stomach. Warning signs and symptoms that indicate the need to seek immediate medical attention include: -- severe, persistent or worsening abdominal pain -- chest, shoulder, jaw or back pain -- difficulty breathing -- vomiting blood or material that resembles coffee grounds -- inability to eat or drink for more than 24 hours -- passing bloody, maroon or tarry stools -- inability to pass stool or gas -- a fever or cold, clammy skin -- dizziness, lightheadedness or fainting
Make an appointment with your healthcare provider as soon as possible if you experience frequent or recurring stomach upset to determine the cause and appropriate treatment. If you're caring for a child with an upset stomach accompanied by a fever, vomiting or diarrhea, call your doctor for advice, as children can become dehydrated quickly. If considering alternative treatments, such as supplements or herbs, talk with your doctor to be sure they are safe for you -- especially if you are pregnant or breastfeeding.